Commentary
Challenger to hot dog title prepares
Originally Published:
July 2, 2010
By
Matt Lindner
| Special to Page 2
CHICAGO -- Two giant trays of hot dogs and five double Big Gulps of pink lemonade, enough food to feed his entire block, sit waiting on Pat Bertoletti's kitchen table.
But the man they call "Deep Dish" isn't having a block party -- he's getting ready for practice, and he's going to eat all of this inside of a 10-minute span. The world's fourth-ranked competitive eater has only days to prepare for the July 4th Nathan's Famous Hot Dog Eating Contest and well … time's a-wastin'.
"I'm really not looking forward to this," he said. "If I had my choice, I wouldn't do any preparation. I'd just go and have fun."
[+] Enlarge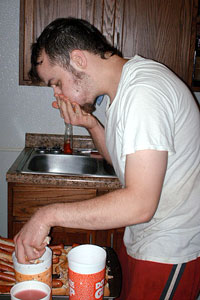 Matt LindnerPat Bertoletti practices for Sunday's contest by ... uh, eating hot dogs.
What follows can only be described as controlled chaos. With the Dillinger Four blaring from his iPod stereo, in the blink of an eye Bertoletti turns from a mild-mannered caterer into the human hot dog consuming machine that has awed crowds the world over.
Every part of his body is in constant motion. His left hand is constantly grabbing the dogs, dunking the buns in the drink in order to soften them.
"I go with that because it tastes better," he said. "Dunking hot dog buns in water is just disgusting."
His right hand is his own personal food shovel, constantly feeding more and more food into his mouth which has become more like a garbage disposal than a traditional mouth.
Parts of buns are flying everywhere, flecks landing in his dark goatee, as he continues to strategize while competing against the clock and his own body. As the "practice" winds down, Bertoletti slows his pace.
"At the end, I change to one at time because if you overfill your mouth, it gets harder to clean it," he said. "That's where the liquid comes in but if you clear too much you could puke."
And just as soon as it began, Bertoletti's practice comes to a sudden halt.
He doesn't want to publicize how many hot dogs he ate, says this practice is better than many he's had recently.
The proof lies in the scale -- he weighed in at 202 pounds before the practice, and tips the scale at 216.4 after.
Bertoletti has never won the Nathan's event, though this year, the path to prize money became more clear when former champion Takeru Kobayashi announced he would not compete due to a contract dispute, Bertoletti only has Joey Chestnut and a handful of others standing between him and the mustard yellow belt.
"I hope they can reach an agreement because if I get second and he's not there, it's basically meaningless," he says.
Bertoletti's has earned about $150,000 in winnings during his five-year competitive eating career, establishing himself as the prince of pie, the sultan of Slurpees, and the king of Kolaches, among other things. He's beaten both Chestnut and Kobayashi in a number of other foods but he says he won't be satisfied until he beats them both at hot dogs.
"I can just hope that through training, I'll train my jaw and throat muscles to just keep that pace up," he said. "The biggest thing with Nathan's is it's an energy game and that energy can certainly improve your numbers but you really need to know how to harness it."
Matthew Lindner is a freelance writer for Sports Media Exchange, a national freelance writing network.