Commentary
Road Trip: Chicago's Wrigley Field
Originally Published:
July 2, 2010
By
Dana Jacobson
| Special to Page 2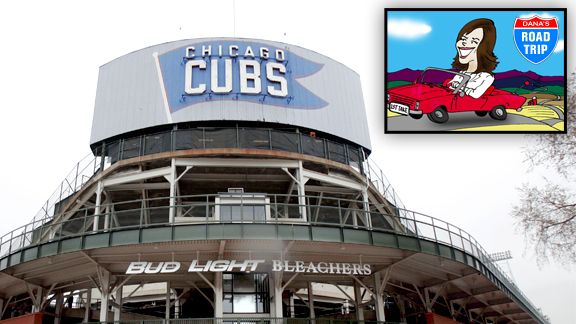 Getty ImagesThe final stop on my tour is Wrigley Field. It's like meeting someone on a first date.
After 1,457 miles on the open road (give or take a dozen), four baseball parks, a smattering of "bad for you" food, and countless bathroom breaks at McDonalds and gas stations from St. Louis to Minneapolis, my ballpark adventure is nearly over. The final stop, the piece de resistance, is hours away … and I couldn't be more nervous.
Wrigley -- a baseball mecca, a Chicago landmark, the ballpark that started it all -- is last on the list.
Friday's impending visit is best summed up as … well … work with me here, a first date.
I'm serious. I'm that nervous.
You see, Wrigley and I have been flirting for some time now … at least I've been flirting with Wrigley.
Long before I held down my desk job at ESPN HQ, Wrigley caught my eye. I mean, let's be real, Wrigley at some time or another has caught everyone's eye, baseball fan or not. For me, it was from a distance and through a pre-HD TV screen most of the time, but how could you not notice the ivy, the classic old-school sign -- so welcoming -- and, with all due respect to the rest of the parks in the bigs, the best seventh-inning stretch ever?
In fairness, you should know that I've had plenty of chances to stand face to face with Wrigley: the college years with trips to Chicago, all the friends who've lived here on and off ever since. But the timing was never right, and as most of us know or will at some point learn … when it comes to relationships, timing is key.
So here I am, on the eve of my first date with Wrigley, and the timing seems perfect. I've been dating around, seen some others like him, but to be honest, from what I can tell from a distance, none of them lives up to Wrigley … certainly not Wrigley's reputation.
Knowing that, you can understand why my expectations for our first meeting are so high. Wrigley's a legend. What's not to love? Sure, Wrigley's live-in family can be a bit of a disappointment, but they are lovable losers and they are loyal to Wrigley. That I can respect.
So what happens if our first date doesn't go well? The weather looks OK, but what if the atmosphere isn't what I'd hoped for? What if I walk away not liking Wrigley? What am I going to tell my friends after all this time of adoring him from afar and talking about my crush?
Even worse, what if Wrigley rejects me? A bad seat or even just a forgettable first date instead of the unforgettable one I've envisioned for years. Then what will I say?
But that's not the worst of it. What if I actually do fall in love on the first date? I mean, this is a long-distance relationship, and sure I can visit, but what if that isn't enough? What if I want more? I mean, let's face it … Wrigley already has so many admirers, how could I ever even try to compete?
If you can't tell, I'm a thinker, a cerebral kind of gal. There are so many questions racing through my mind, the hope and fear of the future. That's why first dates make me so nervous. No matter how many times I go on them, it doesn't get easier.
My friends will tell you it's less the thinking part and more because I wear my heart on my sleeve. You know, I'll try to be coy or aloof, try not to show how I really feel. But everyone who sees us will know. Wrigley will have no doubt. The look on my face will be a dead giveaway.
And while a diary would seem the perfect place to share all of my emotions after our first date … I'm still scarred from eighth grade, the Hello Kitty diary and my brother picking the lock to read about my crush, Shane Doyle (yes, he's real, and no I haven't heard from him this week). It is for that reason that this will be my last entry, dear diary, but I leave you with some of the other wonderful emotions and realizations I've had during my ballpark tour.
1. Midwest ballparks really are charming … so are Midwest people, for that matter.
2. Food that's bad for you flat out tastes better, especially when eaten at a ballpark.
3. No matter what Michel Nasif says, I know the bird that hit my windshield Tuesday on I-55 did not fly away, as he suggested, nor was it concussed, as I offered, but most likely ended up as road kill. (Michel, you're a good guy for trying to convince me otherwise.)
4. Boutique hotels like The James in Chicago and The Iron Horse in Milwaukee are hands-down better than the chains.
5. Getting tan lines watching baseball really can be better than getting them on the beach … they sure look funnier.
6. The folks who hawk cotton candy and hot dogs at the ballparks work their butts off! Tip 'em.
7. Buying the overpriced $120 sweatshirt at Miller Park (yes, I did despite my protests) might make me a fool … but, man, what a great story.
8. Clean gas station bathrooms along the interstate or freeway are a blessing.
9. One of the best bargains out there: McDonalds' large coffee for a buck! A large Diet Coke there for the same, even better!
It's funny, I planned to do this ballpark tour alone, but even while on the road, I never was … and that made the experience even better.
I had friends new and old join me for some of the games, others called during drive time to check on my progress or help me through those very early mornings (sorry, Oprah, but at least I was hands free with the cell phone), and strangers even came up to me at every hotel and every ballpark to say hi and ask about the trip.
Best part is that you readers were here so I could share it all. You are a lasting memory of my ballpark adventure, and no one, not even my brother, had to pick the lock to read all about it.
ESPN anchorwoman Dana Jacobson, who hosts "First Take," will document her five-game baseball road trip on ESPN.com. You can follow her on Twitter here.