Commentary
Germany vs. Argentina will be battle
Originally Published:
July 2, 2010
By
Joe Soehn
| Special to Page 2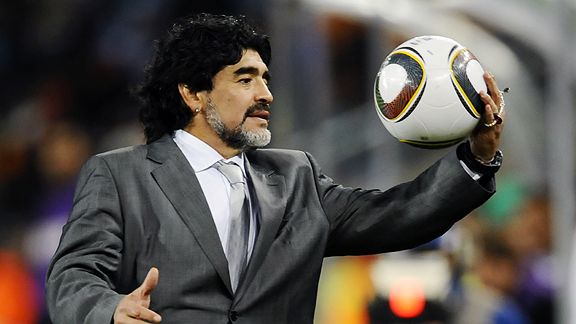 Daniel Garcia/AFP/Getty ImagesWhat will the dapper Diego Maradona of Argentina wear on Saturday?
They're two football giants, having won five World Cups between them. Yet, with the U.S. team now out of the picture, there may be a tendency for stateside residents to overlook Saturday's quarterfinal match between three-time champ Germany and two-time winner Argentina. But don't you dare. Here's why:
1. It's a World Cup rivalry with street cred. Let's get caught up: Both teams have knocked out the other in a World Cup final (1986, 1990) and they're coming off an '06 quarterfinal shootout that ended with some hot-tempered players and managers mixing it up on the field. Neither side is underestimating the other. Both are seeing red.
2. Breakfast at Cape Town wins out over Breakfast at Wimbledon. Forget the strawberries and cream. Get out the grill. This sizzling matchup at Cape Town's Green Point Stadium calls for a spread of German bratwurst and Argentinean steak.
3. Messi vs. Mesut. With his achievements at club level (FC Barcelona), Argentine superstar striker Lionel Messi has a powerful cache. But German wunderkind Mesut Ízil has been stealing the spotlight in South Africa. Let's just say it's a juicy duel.
4. Diego "Armani" Maradona. The Argentine coach, who's now suiting up a la Pat Riley circa 1985, fires up the Albiceleste with his animated coaching. But the big question for the postgame news conference: "Diego, who are you wearing?"
5. Messi vs. Maradona. No, Maradona is not thinking about taking Messi's spot in the lineup. But last week, Messi bet Maradona he would score against Mexico. Didn't happen. Now, Messi says it's double or nothing.
6. Slick teamwork. Argentine playmakers Messi, Juan Sebastian Veron and Carlos Tevez will show some nifty team play, but Germany is all about precision with Bastian Schweinsteiger & Co. The official Argentina-Germany pinball machine is just waiting to happen.
7. Germany, determination defined. Like the sun coming up in the morning, you can always count on Die Mannschaft to give a concentrated 110 Prozent effort each time out on the pitch. Coach Joachim L÷w has preserved Germany 's trademark all-in, never-say-die mindset with this young team.
8. Bad blood? After Germany finished off Argentina on penalty kicks in their 2006 quarterfinal meeting, players and officials from both teams got into a heated scuffle on the field, with one Argentine player (Leandro Cufre) even getting red-carded. Water under the bridge? Magic 8 Ball says: "Sorry, No."
9. The Shootout, Part II? The epic 2006 shootout in Berlin may have a sequel in Cape Town. Four years ago, German goalkeeper Jens Lehmann said he was able to make key stops in the lightning round against Argentina by checking crib notes he compiled on the other team's shooters. This time around, Argentina keeper Sergio Romero said careful study of opposing shooters' tendencies will have him prepared. Forget the crib notes, isn't there an app for that now?
10. Is Paul The Octopus the next Jimmy The Greek? An octopus at a German aquarium correctly picked the outcome of all of Germany's World Cup games to date. A Sea Life Aquarium spokeswoman said it took some time before Paul finally picked Germany to win Saturday's game, which the representative interpreted as a prediction for a close match.
Joe Soehn is a freelance writer for Sports Media Exchange, a national freelance writing network.