Commentary
Paralyzed officer rides bike across U.S.
Originally Published:
July 7, 2010
By
Gideon Rubin
| Special to Page 2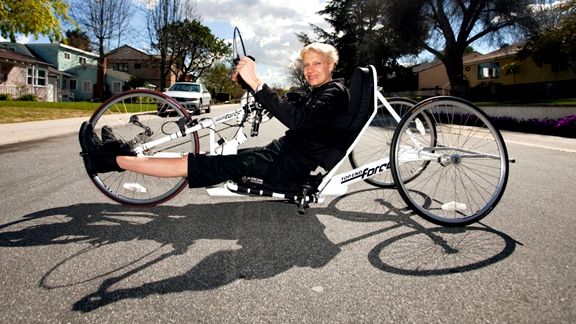 Hans Gutknecht Kristina Ripatti-Pearce's team completed the 3,000-plus mile race from California to Maryland.
LOS ANGELES -- Oreos dipped in honey and peanut butter got Kristina Ripatti-Pearce across the country.
The former LAPD officer, who is paralyzed from the chest down after a June 2006 shooting, wasn't planning to eat so unhealthily. When she started the Race Across America in early June, the plan was to eat protein shakes and chicken. But just like sleep, she traded in healthy choices for things that would get the job done.
"Pretty much anything that had sugar for instant energy," she said.
Of course, that's just how the 37-year-old mother of two lives her life. Even after an armed robbery suspect shot her three times at the end of a frantic foot pursuit four years ago, her fiery persona and determination to make a difference remain intact.
"If anything, it just got more intensified," she said.
Whether she was chasing down soccer balls on the Cal Lutheran University (Thousand Oaks, Calif.) team or thugs on the streets of South Central on an elite LAPD gang unit, Ripatti-Pearce went through life at an ultra-intense sprinter's pace.
The Race Across America was no different.
Her LAPD team raised money and awareness for Operation Progress, a nonprofit organization supporting college-bound teens living in the same gang-infested neighborhoods she spent years patrolling with the LAPD's Community Resources Against Street Hoodlums (CRASH) unit depicted in Dennis Hopper's 1988 film, "Colors."
Ripatti-Pearce's LAPD team completed the 3,000-plus mile race from Oceanside, Calif. (San Diego County) to Annapolis, Md., in nine days. She rode mostly on the route's long, flat and downhill stretches, averaging two hours of sleep a night -- in support vehicles -- along the way.
Her husband, Tim Pearce, an LAPD gang detective, followed close behind the riders in a support van whose headlights illuminated the roads at night.
Her body temperature had to be closely watched, Pearce said, noting that his wife's injuries had damaged her internal thermometer, leaving her vulnerable to fainting or hypothermia from even limited exposure to the elements.
But it was the fatigue factor, which tests even the most seasoned cyclists, that was most challenging.
"It's crazy because you're so tired waiting in transition for the other rider," Ripatti-Pearce said. "I'd be falling asleep waiting for the transition, but once you're going you're feeling a lot better."
Ripatti-Pearce said she drew inspiration from well-wishers she met along the way, including several whose relatives in law enforcement were killed in the line of duty. Many knew her story from an edition of "Extreme Makeover, Home Edition," in which her Redondo Beach, Calif., home was renovated to accommodate her disability.
And she's never been one to back down from a challenge.
Ripatti-Pearce's stubborn determination to reclaim her life inspired a Los Angeles Daily News series that monitored her progress for more than 18 months.
And the reporter, Brent Hopkins, ultimately followed in her footsteps. Hopkins said the influence of Ripatti-Pearce and her husband were key in his decision to sign up for the police academy at a time when the paper was offering buyouts amid a 2008 staff reduction.
"I thought they were great role models, and that's the kind of job I wanted to do," said Hopkins, who is now a police officer.
But in signing up for the cycling ultra-marathon, Ripatti-Pearce admits she met her match.
"I was having nightmares for the month leading up to it, thinking maybe I bit off more than I could chew one this one," she said. "People were saying 'you're probably making it worse in your head than it's gonna be,' but the nightmares were actually exactly how it was."
Except, maybe, for the Oreos.
Gideon Rubin is a freelance writer for Sports Media Exchange, a national freelance writing network.