Commentary
Even Bob Sheppard had trading card
Originally Published:
July 11, 2010
By
Chris Olds
| Special to Page 2
Bob Sheppard worked in baseball for more than 50 years, introducing some of the greatest players in history as the public address announcer for the New York Yankees.
And although his "rookie season" coincided with Mickey Mantle's in 1951, it took another 53 years for Sheppard's first baseball card appearance when Topps included him in its 2004 All-Time Fan Favorites set.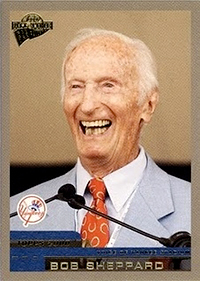 ToppsBob Sheppard had a trading card in a limited edition.
As Mel Allen used to say, "How a-bout that."
Fan Favorites was a mishmash of designs from the Topps baseball archives -- memorable looks from 1951 forward re-used along with memorable players, managers and others in baseball's past. Sheppard's card, No. 15 in the set, used the 2000 Topps design, a nod to the Yankees' then-most recent championship.
Sheppard, who died Sunday at age 99, signed just 10 copies of the card for Topps to place into packs of Fan Favorites. That version of the card commands attention when it hits the market (easily a few hundred bucks) in part because of its scarcity alone.
However, Sheppard did sign many copies of the standard card for collectors through the mail, too. (The lone differences are that the signed version has foil stamping on the front noting that it's a certified autograph card, a holographic sticker on the back and a different card number.)
The standard version of the card sells for little over $1, while a Refractor version of the card (identical except that it is printed with a reflective plastic surface) is limited to just 299 copies and sells for $10.
Those three cards were it for Sheppard, despite six decades in baseball, until Upper Deck included a dual cut autograph card of Sheppard and former Yankees broadcaster Phil Rizzuto in its 2008 Yankee Stadium Legacy Collection Moments in Time Dual Cut Signatures set.
That card, which has signatures of both Yankees legends cut from previously signed documents which are then matted into the card, is a one-of-a-kind creation as literally just one serial-numbered copy was made.
So, in all, Sheppard's baseball card total of four trails Mantle by a mere 11,133. (The Mick appears in 11,137 different cards through the years -- not including any 2010 cards that are in the works.)
To borrow a line from Rizzuto, "Holy cow."
Chris Olds is the editor of Beckett Baseball magazine. Check out Beckett.com -- and be sure to get the latest news on sports cards and memorabilia at The Beckett blog. You can also follow him on Twitter.