Commentary
Heat aircraft highlight Flugtag Miami
Originally Published:
July 11, 2010
By
Brittany Link
| Special to Page 2
MIAMI -- LeBron James wasn't the only thing exciting South Florida this weekend.
The first stop of the 2010 Redbull Flugtag North American Tour was in Miami, just blocks from the American Airlines Arena, the new home of the NBA's new "Holy Trinity".
Flugtag, pronounced floog-tog, is German for "Flying Day", or in this case, as Woody from "Toy Story" might say, "Falling with style".
[+] Enlarge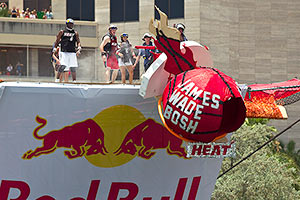 Brittany LinkThe Heat flying machine of Bosh, Wade and James came crashing down. Uh-oh.
More than 85,000 people came out by land and sea to witness 35 teams roll their man-made machines off a 30-ft high deck and fail fly. This is like a warped mix of watching NASCAR for the crashes and hockey for the fights.
Teams are scored on creativity, showmanship and distance (or lack thereof) in a judging system more flawed than the World Cup.
How far are they expected to fly?
"All the way to the water," said Galvin Moore, pilot for Team Navy: A Global Force for Awesome.
Team Formula Flug from Palm Beach Gardens, Fla., took the top spot with a winged Formula One Race car that fell 54 feet, the best distance of the day. The People's Choice award went to Team Transplace who wooed fans with free T-shirts before a "Smokey and the Bandit" skit transporting LeBron James across state lines from Cleveland.
Other favorites included Team Tiger's Tails complete with Tiger and his Escalade, his caddie Stevie Williams, a security guard, and of course, Elin, with her 9-iron.
A giant wedding cake, a pizza, a trailer home, boxing ring, and a giant manatee were just a few of the other aircrafts that filled the giant dumpsters on the side of the flight deck after taking the plunge into Biscayne Bay.
Best crash of the day was a tie between "Miley Cyrus" flying face first off the top of her American muscle man and a giant rubber ducky that got hung up on the side of the safety netting right before its head, and the pilot, fell off the edge.
"It's like watching your child get hit by a car," said Brad Sitton, pilot for Team Transplace when asked what it was like watching their big rig aircraft fall. Team Transplace spent more than $8,000 on the materials for their craft.
The hometown favorite aircraft was the "Three Kings" Miami Heat basketball hoop. Adorned with the names Wade, Bosh and James, this craft was highly touted and then crashed straight down into the water below.
Let's just hope this isn't a vision of what's to come for the "Miami Thrice".