Commentary
Lasting memory of Cup: vuvuzela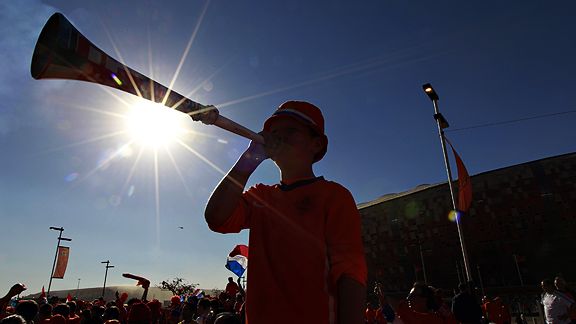 AP Photo/Eugene HoshikoA Netherlands fan blows a vuvuzela before the final soccer match between Spain and the Netherlands.
Shhhh. Do you hear that? That buzzing noise, it's gone.
The World Cup is over.
So with it goes the ever-present drone of the vuvuzela, a word we'd never heard of before June and now can all pronounce.
After a month of a 1,000 ceaseless kazoos emanating from your television -- or a much-louder blare if you happen to actually be near someone blowing one of the much-talked about plastic trumpets -- life reverts back to normal.
Or does it?
Will we ever be content to return to our sporting event staples of thundersticks, cowbells and all those other puny noisemakers that can't come close to cracking the eardrum-decimating, 100-plus-decibel range of the vuvuzela?
Those hopeful that the vuvu-mania will carry over beyond Sunday are sure to be sorely disappointed.
Sure, we'll always have the vuvuzela app, but the list of sporting locales banning the real thing is growing far faster than soccer's popularity stateside.
UFC, the SEC, the Big Ten and the New York Yankees are just a few who have silenced the controversial South African noisemakers.
However, when the ever-progressive folks at Wimbledon made it clear the vuvuzela had no place at the All England Club, the message was clear. After all, if you can't sound a trumpet blast on match point, when can you?
Still, fans take heart. It's only a matter of time before someone comes up with something even more annoying. Until then, we'll just have to enjoy the sound of silence. That is, once the buzzing in your ears finally stops.
ESPN Playbook
Maria Burns Ortiz covers social media for ESPN Playbook. She began writing for ESPN.com in 2006, covering college soccer for ESPNSoccernet.