Commentary
Amare Stoudemire talks about new life
Originally Published:
July 11, 2010
By
Sam Alipour
| Special to Page 2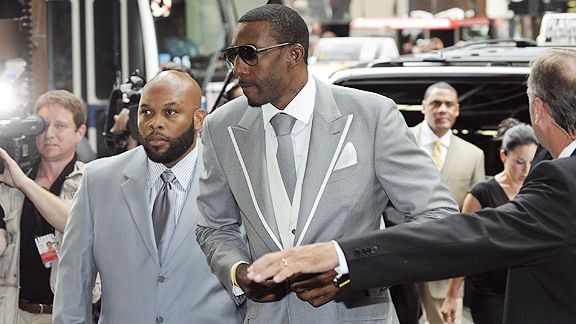 AP Photo/ Louis LanzanoAmare Stoudemire arrives for the wedding of friend Carmelo Anthony.
LOS ANGELES -- This annual ESPYS week kickoff soiree at the Playboy Mansion began at 8 p.m. PT Monday. But two hours into the Sports Dream Celebrity Poker and Pool Party, the pool lay still. The poker tourney was the thing. Talk among the crowd -- which was heavy on first-timers like skateboarder Ryan Sheckler, Raptor Amir Johnson and Raiders first-rounder Lamar Houston -- centered on LeBron, of course. And the host was still trying to snag his first drink at the open bar.
"Is my money good here?" Hugh Hefner asked, waiving a $5 bill at his bartender.
"It sure is?" the tender stammered.
It sounded like a question.
But the vibe picked up at around 10:30 p.m. That's when a dozen women leapt into the pool to splash each other. That's also when -- and this might be a coincidence -- a tall man stepped out of his limo, a Yankees cap atop his head and a "Damn, I just signed with the Knicks!" type smile splattered across his face.
Amare Stoudemire, New York's newest star, is a human firecracker. And these days, in places like this, he's kind of a big deal.
Wherever the Knicks' top free-agent signing went, back slaps and "Let's go Knicks!" chants followed. Fans like Craig Robinson of "The Office" clamored for photos, while women swarmed for a touch or, in the case of the half-crazy young lady who attempted to swing from Stoudemire's outstretched arm, something more. Things got really weird when a strange man yelled this directly at his neck: "I'm Steve Kerr's best friend!"
Sweet. Keep moving. Keep smiling. "I'm sad to see Amare go," Suns swingman and now-former teammate Jared Dudley said, "but you can see how happy he is being with the Knicks and having that $100 million dollar contract. Can't be sad for anybody with $100 million, you know?"
Yes, Stoudemire is rich and happy, but he's in a hurry, too. After circling the poker floor, peeping LMFAO's live set and swinging by the gift suites to pick up a New Era Knicks cap and a swig of Adult Chocolate Milk ("You can retaste your youth at 40-proof," the cheerful rep says), Stoudemire was homeward bound, his party-stroll-as-victory-lap complete. He has a full slate this week, including a Nike party Tuesday night and the ESPYS on Wednesday, to say nothing of his three-hour daily workouts with his new friend, renowned trainer Idan Ravin, aka "The Hoops Whisperer," who also happened to be Stoudemire's wingman. "I'm just monitoring, making sure he has his heart rate at a good level," Ravin kidded.
Stoudemire's heart could punch through his chest at any moment. He admitted as much when he escaped the commotion in the backyard for a sit-down with Page 2. It took place in the smack-dab-center of Hefner's sprawling front lawn, in the serene quiet and pitch-black dark.
I think your smile says it all, but how are you feeling right now?
I'm pumped, man. This is going to be great. Being in New York is a great opportunity for me, on and off the court. I expect to have a lot of fun.
Are you ready for the New York media's unforgiving spotlight?
(Laughs.) That'll be easy. Doesn't take much work. I think all you have to do is respect everybody, work hard at your craft, and they'll respect you. All they want to see is that you're working hard, giving the Knicks everything you got.
How excited are you to be back with your old coach Mike D'Antoni?
I'm very excited to be back with him. Things are great between us. The communication between us is very open. We sat down over breakfast before the signing, and we're always talking. I'm going to Vegas after the ESPYS to hang out with Coach and his staff, see some of the young guys play. We're starting to establish a great new relationship. The thing I love about Coach D'Antoni is he lets you play your game, offensively. But he wants you to be a complete player. Defensively, we've got work to do. I'm going to continue to improve. I made some great strides last season on defense, and I'm close to it [reaching my potential]. I'm pretty much there, man. It's all about being a step ahead of the offense.
Apparently, you've become quite the pitchman for your new team, working the phones as a recruiter even before you signed.
(Laughs.) Well, we're just trying to see if we can build a team. We want to be in a position to compete with the best. The Lakers are obviously the top team in the league. You have Boston in the second tier. Then you have Miami, bringing in LeBron James and Chris Bosh to join Dwyane Wade. There are a few teams out there that are pretty legit, signing big names and getting better. We want to be able to compete with those guys.
And you feel it's on you to open the door, to let people know that there's some stuff going down in New York?
Absolutely. That's what I'm trying to do. I'm trying to get people to understand that we're trying to build something in New York City and to let them know that there's no better city for you in terms of opportunity, on and off the court.
We're hearing that at Carmelo Anthony's wedding last week, Chris Paul made a toast that suggested you guys will be forming your own Big Three in New York soon.
(Laughs.) Yeah, it'd be great if they could join me there. Obviously, I can't really recruit them, so to speak, because they're under contract. But obviously we're buddies. We talk all the time over the phone. We can talk about those things, but we can't really proceed with it. But hopefully, when the time is right, they can join me. If not, we'll figure something out.
Looking back, how do you feel about your time with the Phoenix Suns?
I think it was a great ride. It really was. They saw me grow from a young man to a man in that city during that time. We had a lot of great accomplishments, with All-Star Games and Western Conference finals. We received a lot of accolades, with Coach D'Antoni wining coach of the year, Steve Nash winning two MVPs, myself getting first-team All-NBA. I hope I'll get a chance to be in their Ring of Honor one day. I'm definitely sad we didn't win a championship there, but I've still got time. Hopefully I'll get one in New York.
You're an ESPYS veteran now. What's your game plan for this?
Yeah, I guess I am a veteran now. I've been doing this for a while, helping out Hugh Hefner with his charity events and doing the ESPYS. I'm looking forward to enjoying the week and letting it soak in, but also to meet people, make new contacts and build my Rolodex. Of course, tonight is also about the food, too. And the party. And it's definitely about the girls. Obviously, the main attraction is the Playboy Bunnies. Come on, now!
Sam Alipour is a contributing writer for ESPN The Magazine. His Media Blitz column appears in ESPN The Magazine and occasionally on Page 2. You can reach him at sam.alipour@gmail.com.