Commentary
Chasing down talent to talk ESPYS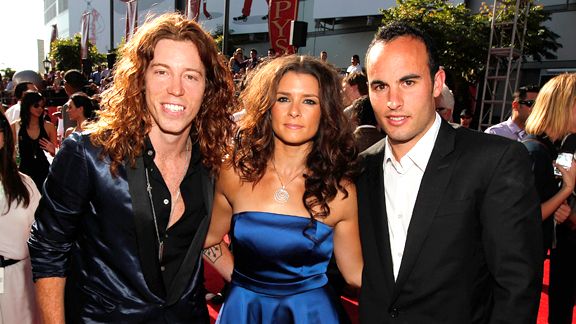 Christopher Polk/WireImageOlympian Shaun White, driver Danica Patrick and soccer player Landon Donovan arrive at the ESPYS.
LOS ANGELES -- A selection of quotes gathered at the ESPYS telecast Wednesday night:
Terrell Owens, on the premiere of the second season of "The T.O. Show" last week: "I thought the first episode was awesome. Chad's show kicked it off, and it did well and it helped mine out. And we both ended up with great ratings. We're good friends, and I'm rooting for Chad. But I also want to beat him. Anything Chad and I do, we do it to win."
Bernard Berrian, on being a VH1 correspondent: "I'd love to get Roselyn Sanchez and Emmanuelle Chriqui. But, if they're not available, I'd settle for interviewing Jared Allen. He's crazy."
Ephraim Salaam, on what he'd be nominated for: "Sexiest man in the NFL, probably."
Amare Stoudemire, on the fans: "I didn't realize how many New York fans there are out there. They're everywhere. I hope I can help that number grow."
Myron Rolle, on wearing an ascot: "If they have an award for Best Ascot, I'd win, no question."
DeSean Jackson, on whether he thinks his new QB, Kevin Kolb, could take home an ESPY soon: "Kevin's got a lot of potential. He works hard and he's an awesome QB. He puts the ball on the money and gets it out quickly. Doesn't wait 'til the last minute to throw it."
Kyle Busch, on his outfit: "Most of these guys have stylists. I just have my lovely bride-to-be, Samantha. She dressed me."
Brandon Jennings, on not wearing diamonds: "I don't want to draw attention to myself. And diamonds are played out, anyway. Girls don't go for diamonds no more."
Dara Torres, on her new swimming book: "It's doing really well, and people seem to be enjoying it. I wrote it for anyone who wants to get in shape. You just have to go slow."
Tony Dovolani, on winning the ESPYS golf tournament: "We won yesterday! I had to represent for the different kind of athlete. It was somewhat easier for me to be in that world, because I'm a golfer. Max was like, 'Represent for the dancers.' It was awesome."
Danica Patrick, on getting ready for the show: "It definitely takes more time getting ready to come to the ESPYS than it does to get into a racecar. I'm feminine, so I love to get to show this side of myself, too."