Commentary
Sam Adams, Bud Selig on Beer team
Originally Published:
July 17, 2010
By
Rob Daniels
| Special to Page 2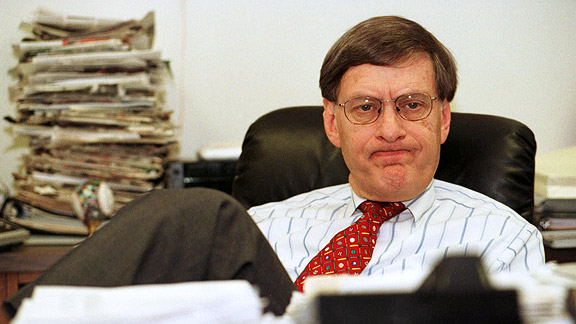 AP Photo/Morry GashBaseball commissioner Bud Selig makes our list for All-Beer name team.
Last Saturday, the world observed Adolphus Busch's 171st birthday. The patriarch of the Anheuser-Busch/InBev family of brewers, Adolphus presumably endorses the unveiling of the All-Beer Team. So raise a glass and toast (responsibly, of course) the following individuals for the suds and substance of their deeds:
Sam Adams: The Boston Beer Company's marketing slogan says Sam Adams was a brewer and a patriot. So was Sam Edwards Adams. Well, at least the Patriot part. Our Sam Adams played guard for the New England Patriots from 1972-80.
Carling Bassett: This one's almost too easy. The Canadian tennis player's father, John Bassett, traces his family lineage to the people who brewed and marketed what is now Carling Black Label. As for Carling Bassett, she made the quarterfinals of the French, Australian and U.S. Opens in the 1980s.
George Foster: If the last name is "Australian for Beer," then George was simply "Pitcher-Speak for Fear." Foster hit 52 homers for the 1977 Reds and became the first player in either league to top 50 since Willie Mays a dozen years earlier.
Mia Hamm: It's unlikely that the greatest women's soccer player in history consumed too many of her namesake's products while honing her skills, which ultimately translated into two Olympic gold medals, two World Cups and four NCAA titles. Hamm is to the new Women's Professional Soccer what Jerry West is to the NBA. Her silhouette adorns the WPS logo. Hamm's brewery, now a Miller subsidiary, is in St. Paul.
Dick Harp: An important mentor to Dean Smith, Harp coached the 1957 Kansas team that featured Wilt Chamberlain and lost to UNC in triple overtime of the NCAA championship game. That contest isn't the longest in history, but it should probably go in the Guinness Book of World Records because, among other reasons, Guinness brews Harp and created the record book.
Brad Miller: Sure, the last name is common, but this guy had to make it because he was a Boilermaker. The nickname of the Purdue University teams refers to railroad manufacturing, but as many college students allegedly know, it's also the name of a drink consisting of beer and a shot of vodka, whiskey or tequila. Miller is a two-time NBA All-Star who began his career with an Italian pro team sponsored by a travel agency. Appropriately enough, he has played for four NBA franchises.
Bob Schaefer: As any advertising connoisseur knows, Schaefer had a marketing plan that could never float today. It called itself "the beer to have when you're having more than one." Curiously, Bob Schaefer decided to take the slogan to heart. He served as interim manager of the Kansas City Royals in 1991. And for the sake of repetition, he did it again -- this time for 17 games instead of just one -- 14 years later. He was also a Royals coach -- twice -- from 1988-91 and again from 2002-05. Bob is no fool, however. He led the 1981 Greensboro Hornets, the Yankees' Class A affiliate, to a 98-43 record and the South Atlantic League championship.
Bud Selig: He's not only the commissioner of Major League Baseball; he's a contradiction in beer-branding terminology. Allan Huber Selig is known as Bud, but the team he once owned, the Milwaukee Brewers, is heavily affiliated with Miller. (As in the two practically share a logo and the team plays in Miller Park.)
Rob Daniels is a freelance writer for Sports Media Exchange, a national freelance writing network.