Commentary
Dwyane Wade shows 'PDA' for Union
Originally Published:
July 19, 2010
By
Chris Perkins
| Special to Page 2
MIAMI -- Dwyane Wade could always move the crowd. But this time it was different for the Miami Heat superstar guard. At halftime of Sunday's All-Star basketball game he shares with Alonzo Mourning at Miami's AmericanAirlines Arena, Wade boldly strolled over to the front row and sat down beside actress Gabrielle Union.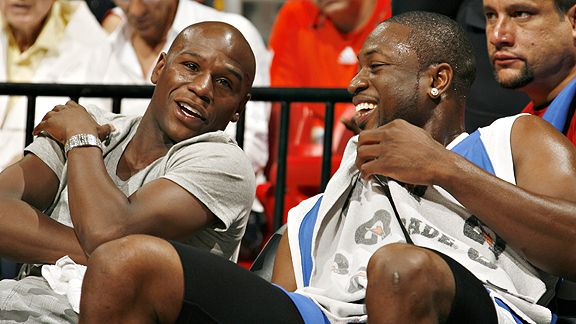 Issac Baldizon/NBAE/Getty ImagesFloyd Mayweather and Dwyane Wade participate in the Summer Groove basketball game in Miami.
The two smiled and laughed, posing for pictures as a mob of photographers swarmed around them. And then, in front of a crowd of about 10,000 people, Wade kissed Union ("Bring it On," "Bad Boys II," CBS' "City of Angels"). It was the most public announcement yet that the two are a couple. It also symbolized a great sense of freedom for Wade, who has spent almost three years going through a nasty divorce and custody battle.
"It's nice to be able to just live your life and not really care about what people are going to say, and just be free," said Wade, who has also been fighting a lawsuit from a failed restaurant venture. "It is nice that you can just move on with your life.
"This summer's been real big for me for that. I've been getting a lot of things behind me -- and God has continued to bless me -- and a lot of it has been positive. It's been a two-and-a-half, almost three-years hardship. But now it's going away, and just don't get myself in anything like this soon and I'll be fine."
Wade and Union were together during the week at other events during The Summer Groove presented by Alonzo Mourning and D. Wade, the week-long charity event that includes a youth summit, comedy show, street party, silent auction and golf tournament.
[+] Enlarge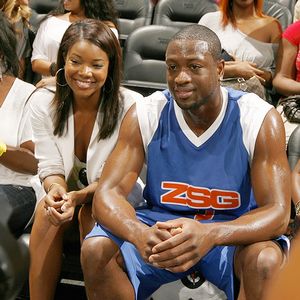 Issac Baldizon/NBAE/Getty ImagesWade and Gabrielle Union were all smiles on Sunday.
When Wade sat beside Union on Sunday, it was another very visible moment in a dramatic two-week stretch that saw the Miami Heat's big three of Wade and forwards LeBron James and Chris Bosh come together in high-profile and controversial fashion -- first with Wade and Bosh announcing their intentions to play together in Miami on live television, second with James announcing on an hourlong TV special that he would be joining the Heat, and third with a spectacular welcome celebration thrown by the team.
Since then a few members of the NBA's 50 greatest players team, ranging from Michael Jordan and Charles Barkley to Clyde Drexler and Bob Cousy, have weighed in on the teaming of three of the game's top players. Jordan and Barkley say they aren't crazy about the idea, while Drexler and Cousy say they enjoy seeing players use their off-court power in such a fashion.
"There's nothing wrong with it," said Drexler, who pointed out that he requested a trade from Portland to Houston in 1995 so he could join his good friend, center Hakeem Olajuwon, to win a title.
"It just shows teams have to be more careful not letting guys get to that [unrestricted] free agency level."
As for Wade, freedom has arrived, but rest remains elusive. He was scheduled for a 7 a.m. dentist appointment Monday, a day after The Summer Groove concluded. Then he expects to dive head-first into planning his charity event in his native Chicago in September. He can almost breath easy from a busy summer.
"The part about the free agency was a big exhale for me," he said. "That was a long process in a short period of time. I'm glad all the talk is over. The Groove is something that takes a lot out of you.
"You have to get up there and give your all, try to get people to do what people don't like to do, come out of their pockets. It takes a lot of selling to do that. Now I can take a little exhale, but I still have my event up in Chicago. Same thing. So, keep it going."
Chris Perkins is a freelance writer for Sports Media Exchange, a national freelance writing network.