Commentary
Brett Favre is voted Most Overhyped
Originally Published:
July 20, 2010
By
Jerry Greene
| Special to Page 2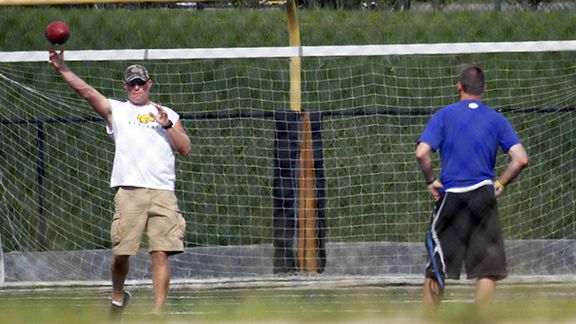 AP Photo/Rogelio V. SolisMinnesota quarterback Brett Favre throws a pass to an Oak Grove High School football player.
Suspicious minds among you believe Brett Favre actually enjoys seeing his own name in print and his own image on TV and the Internet (especially in comfy jeans either playing backyard ball, patting kids on the head or sitting behind a microphone with one tear dutifully sliding down his grizzled cheek).
If that's true, Brett, then this one's for you.
When we asked you for the most overhyped people, events or moments in sports, you clearly thought of Favre first and foremost. A large number of you feel we now have a national holiday that doesn't have a specific date but always a specific meaning: "Brett's Back Day."
And you are sick of it.
• "Brett Favre screwed the Packers and played the Jets like a fiddle. Now he's playing the same game with the Vikings. Does he just want to skip camp? Does he want the world to fawn over him every offseason? Ugh." -- Chris H., Nashua, N.H.
• "I mean, the guy is a legend. I get it, I really do. But do I need to know if he is throwing with the kids at a high school? Or what style of cologne he is wearing that day? The media feeds off anything Favre does in the offseason, and it is insane." -- Jeremy J., Apex, N.C.
• "Why do we sit around waiting as if there will be any outcome other than him playing for 'one more year' every time? I'm not knocking the man but we all know he will die on the field -- with a walker." -- Blake P., Lexington, Ky.
Before we get to the list, a tidbit on the voting that intrigues me: Almost no votes involving Tiger Woods. Clearly you all realize that even when we still talk about him now, you can't call it hype.
Let's do the list.
Top 10 Most Overhyped People, Events or Moments in Sports
1. Brett Favre's Return-- You have been paying attention, right?
2. World Cup -- "Seriously, did you watch any of the World Cup? That's eight minutes of my life that I'm never getting back." -- Joe M., Navarre, Fla.
3. All All-Star games -- "If we wanted to see a bunch of vastly wealthy, overconfident 'athlebrities' dance around while not actually trying at a sport, we'd watch 'Rock 'n Jock.'" -- Evan C., Boise, Idaho.
4. "Dan vs. Dave" -- (Prior to the '92 Summer Olympics in Barcelona, Reebok went nuts building hype for a showdown between American decathletes Dan O'Brien and Dave Johnson. Unfortunately, Dan didn't qualify.) "Reebok drowned us in these ads for months. Dan didn't even qualify, and Dave came in third." -- John M., Staten Island, N.Y.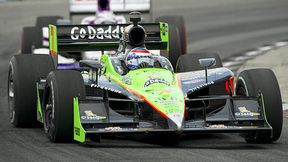 Robert Laberge/Getty ImagesDanica Patrick might have a lot of buzz, but Page 2 readers are tired of reading about her.
5. Olympics/Olympic openings -- "Without another super power out there to hate just makes the whole affair a non-event." -- Brad S., Overland Park, Kan.
(Give England a chance to impress us, Brad. That double-decker bus they had at the Chinese Olympics looked smashing!)
6. Danica Patrick -- "For someone who commands as much media attention as she does when she races in NASCAR, you'd expert her to, you know, finish higher than 24th." -- Mike A., Methuen, Mass.
7. Anna Kournikova -- "I understand the cause of her popularity (Hey, I'm no fool). But as an athlete, when you are getting more coverage from E! than ESPN, it's not a good sign." -- Bryan H., Los Angeles.
8. BCS championship games -- (Sorry, no usable quotes as they all start muttering about "playoffs" and then it gets nasty after that.)
9. Michael Jordan in baseball -- "As if being the best athlete in one sport gave him a free pass to be good in another. It's sad that for a year and a half he took a starting job from some faceless minor leaguer because he was Michael Jordan." -- Ben M., Peoria, Ill.
(Yeah, but Ben, if memory serves, his teammates got to go on the road in a really nice bus.)
10. McGwire vs. Sosa -- "Every game it was 'maybe history will be made tonight.' Nope. Next game. Then the next game. And yawn, snooze. Mark McGwire finally broke the record. Couple of years later it was broken again by Barry Bonds. And then it still didn't matter because the guys were on steroids." -- Peggy C., Orlando, Fla.
That's the list, and a fine one it is. Note that most of the people, places and things on the list are on-going, suggesting that hype is an insubstantial thing that doesn't hang around long. Trust me, hype is hardly new though, mercifully, our memories of it are short.
Here are a few more that didn't make the list but deserve "dishonorable" mention:
• "I cannot think of a single legitimate reason to like one race car driver over another. You like Tide more than you like Corn Flakes? You like the guy because he's handsome? That's the most logical excuse out there, but why does your husband like him so much?" -- Casey M., Columbia, S.C.
• "The 2004 Olympic U.S. basketball team. Finished third to Argentina and Italy. Most overhyped bunch of losers ever assembled." -- Dave L., Houston.
• "Notre Dame football." -- Scott H., Salt Lake City, Utah.
• "Every Cubs season since 1909." -- B.J. H., Lowell, Ind.
• "The closing pitcher. Mariano Rivera closing a game for Pittsburgh or Baltimore would be the equivalent of Steven Hawkins teaching kindergarten." -- Marco D., East Hanover, N.J.
Our closer is Jack F. of Falls Church, Va., who submitted a list of 26 items. Some of his are already mentioned. Others include competitive eating on TV, high school "signing day" news conferences, Mike Tyson and the 1972 Miami Dolphins. But his first choice is a personal favorite:
• "The Running of the Bulls -- which ought to be a stroll down the street for some bulls and the Running of the Morons."
And as for an abundance of hype -- aren't football training camps about to open?
Jerry Greene is a retired columnist from the Orlando Sentinel and can be reached at osogreene@aol.com