Commentary
John Elway enjoys golf, helping Tebow
Originally Published:
July 23, 2010
By
Lynn DeBruin
| Special to Page 2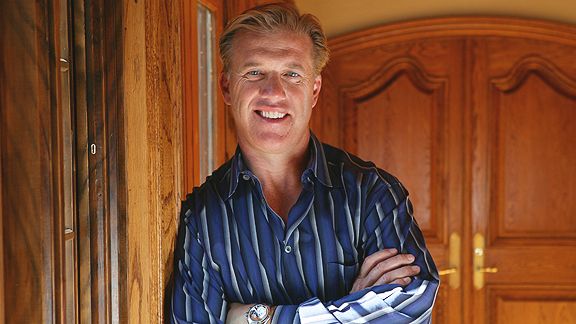 Doug Pensinger/Getty Images for OctagonThe Denver Broncos have welcomed back NFL Hall of Famer John Elway.
DENVER -- He's 50 now, with a new left knee, a new wife (a former Raiders cheerleader) and he's about to begin a new relationship with the Denver Broncos -- be it business marketing or perhaps even offering tips to rookie quarterback Tim Tebow.
But this isn't the same John Elway who led the Broncos to back-to-back Super Bowl titles a little more than a decade ago.
"I'm finally at a point in my life where I'm starting to enjoy life a little bit instead of charging ahead," Elway said Thursday after playing in the first round of the Colorado Open golf tournament at Green Valley Ranch. "I'm just kind of trying to take the foot off the pedal a little bit and smell the roses a little bit."
Elway? Stop and smell the roses?
Perhaps time will tell, considering that eventually owning a piece of the Broncos is on his post-50 "bucket list."
But if nothing else, his sense of humor after shooting an 11-over 82 Thursday proved that the competitive fire doesn't burn as hotly as it once did during his 16 years with the Broncos.
"My knee is good, but my back hurts and I got a headache," he said after a horrid day when putts didn't drop and his shots kept going right, leaving him in danger of missing the cut.
"This is the way I compete now and it's a game that I really enjoy. But I didn't enjoy the way I played today. I'm trying to get better."
Elway talked openly about joining the Broncos this season, even if the agreement is informal -- mostly to help with sponsors and publicize Denver's Halloween game versus San Francisco in London.
"I think it's just going to be a step-by-step type of thing … slowly work into it," he said.
Asked why it took the Broncos so long to include him, Elway said he wasn't sure. He admitted that when he retired after the 1998 season, he wanted to get away from football.
When he did get back into the game, it was with Broncos owner Pat Bowlen in a partnership to run the Colorado Crush of the Arena Football League until it folded a year ago.
Last year, Elway ventured, the situation simply wasn't right, with Mike Shanahan being fired and Josh McDaniels taking over as coach.
"Now the timing may be a lot better in their minds," he said.
Elway's arrival comes at a critical point, with Denver having drafted college sensation Tebow in the first round. Elway pooh-poohs those who are critical of Tebow's quick release and ability to transition to the pro game.
"As long as he can get [the pass] out of there in a timely manner, I think he's got plenty of arm," Elway said. "He's not going to change his release. He may get better obviously by throwing and get more accurate and shorten it up as time goes on. But if it's long and quick, that's OK, too. He's a guy that's going to work at it."
Just like Elway -- whose focus this week is squarely on his golf game.
If the scratch golfer can just figure out how to shoot 59 in Round 2, he'd reach his latest goal.
"It's what keeps him coming out," said caddie Jeff Nickless, the boyfriend of Elway's daughter Jordan. "It's a completely different mindset when you don't have a team backing you, and it really gets to him sometimes."
Elway admitted that standing on the first tee of a state open is a lot different than playing golf with buddies or standing at his own two-yard line.
At least he can drive it more than 98 yards.
Lynn DeBruin is a freelance writer for Sports Media Exchange, a national freelance writing network.