Commentary
Retired numbers might surprise you
Originally Published:
July 26, 2010
By
Matt Lindner
| Special to Page 2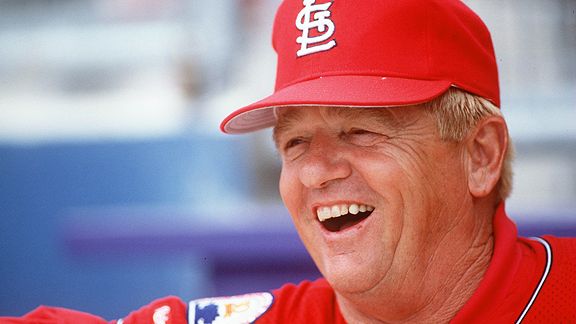 Getty ImagesWhitey Herzog deserves to have his number retired, but some others have interesting stories.
Former manager and brand new Hall of Famer Whitey Herzog has long been considered a Cardinals immortal by the team's fans. This Saturday, the team will make it official, retiring his No. 24 prior to a game against the Pirates.
Herzog led the Redbirds to the 1982 World Series title and two other appearances (1985 and 1987). Retiring his number is a natural move.
But there are some other retired numbers that might surprise you -- for their location or reason:
No. 9 Gordie Howe, Carolina Hurricanes
Yes, the Red Wings retired Mr. Hockey's number long, long ago. But what's interesting is that his No. 9, while not hanging in the arena, is out of circulation to Carolina Hurricanes players, as well. Howe played his final season with the Hartford Whalers, now the Hurricanes.
No. 12 Wade Boggs, Tampa Bay Rays
You won't find No. 12 hanging on the walls of Fenway, despite the fact Boggs won five batting titles with the Red Sox (between 1982 and 1992). Instead, you'll have to head south. Boggs' stint at Tropicana Field is most noted for this -- on Aug. 7, 1999, he became the only MLB player whose 3,000th hit was a home run.
No. 15 Brad Davis, Dallas Mavericks
Davis was one of the original members of the Mavs and while his numbers were solid, they were hardly the kind of numbers associated with someone whose jersey hangs from the rafters. In 12 seasons, Davis never averaged more than 12 points per game in a single season, and finished with an average of 8.0 for his career.
No. 23 Michael Jordan, Miami Heat
Jordan's No. 23 has a place of honor at the United Center, but it was also the first jersey retired in Heat history on April 12, 2003. Heat coach Pat Riley said the team decided to hang a half-red, half-blue banner for Jordan's time with the Bulls and the Wizards, respectively, to honor Jordan's contributions to the game.
No. 31 Jim Taylor, New Orleans Saints
A six-time All-Pro selection during his time with the Packers, Taylor has not been honored with a jersey retirement ceremony at Lambeau Field. But Taylor joined the expansion New Orleans Saints in 1967 as his career was winding down, played 14 games for them (390 yards on 130 carries, two touchdowns) and they retired his number.
No. 44 Hank Aaron, Milwaukee Brewers
Hammerin' Hank returned to the place where his career began (with the Milwaukee Braves) and where he won his only World Series title. In the twilight of his career, Aaron hit .232 with 22 home runs and 95 RBIs for the Brewers while being used mostly as a DH. Aaron played for the Braves (both in Milwaukee and Atlanta) from 1954 to 1974, and that team also retired his number.
No. 77 Ray Bourque, Colorado Avalanche
Bourque's Avalanche career spanned only two seasons, 94 games and 73 points, but Colorado is the where Bourque finally won a Stanley Cup -- and for that, they retired his number, which can also be found in Boston, where he played from 1979 to 2000 and was a five-time Norris trophy winner.
No. 455 The Fans, Cleveland Indians
The Indians sold out what was then Jacobs Field (now Progressive Field) a league-record 455 consecutive times from June 12, 1995 to April 4, 2001, a record that has since been surpassed by the Boston Red Sox. After the 2001 season, the team retired the number to honor its fans' loyalty over the years.
Matt Lindner is a freelance writer for Sports Media Exchange, a national freelance writing network.