Commentary
Tim Tebow's name is on everything
Originally Published:
July 29, 2010
By
Tracy Hackler
| Special to Page 2
Tim Tebow is not just a Denver Bronco. He's a clothes horse, too.
The proof, like Tebow's very name these days, is all around us.
For starters, the Florida fashonista has been leading the NFL in jersey sales since virtually the day he was drafted. What's more, on the heels of Nike's early July announcement that it will produce a limited-edition Tebow sneaker came this week's jarring brief: Underwear giant Jockey has inked the rookie quarterback as a spokesman for 2010 and beyond.
[+] Enlarge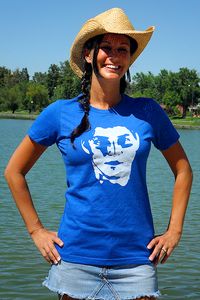 Courtesy of tebowtees.comFlorida alum Kim Roth, who lives in Denver, wears a Tim Tebow inspired T-shirt.
But that's not all. While Helen of Troy's inspirational visage might have launched a thousand ships, Tebow's recently helped launch a line of women's panties sure to grace a thousand hips. He also served as the mascot-melding motivation behind BroncoGator.com, a site whose prevailing logo answers the age-old question: What would happen if the Denver Bronco and the Florida Gator procreated?
Clearly, Tebow is a sartorially splendid sort who's as adept at moving articles of clothing as he is at moving up a draft board. Not that anyone needed to tell Denver resident Jesse Stiles that.
Stiles -- the co-creator of TebowTees.com and co-founder of the startup company Brand Enamel -- has been peddling hip-messaged, Tebow-influenced tops since early July. It's a business proposition that developed organically not long after the Broncos made the lightning-rod quarterback the 25th overall pick in the 2010 NFL draft.
"We were sitting around on a rooftop in downtown Denver about a month after he was drafted, and someone said, 'What would Tim Tebow do?' Ideas started flooding in," Stiles says. "We live in a city that needs a hero, especially the Broncos after their last five years of mediocrity.
"Tebow attracts the eyes and cameras of fans and critics alike. He's a truly unique personality who garners attention for completely opposite reasons than most athletes. He's outwardly passionate about his beliefs, and he has a work ethic that's unparalleled."
It's a recipe that's been good for business so far. The venture's overriding sense of humor doesn't hurt, either.
Much of TebowTees' inventory offers tongue-in-cheek parodies of its namesake's squeaky-clean image (the very-Coors-looking "Golden Boy" and "Checklist" selections, for example) or his devout Christianity (see "The Martyr" or "WWTTD?").
While the subject matter on some of the shirts might seem a little risqué on the surface, Stiles insists that it's all done with a light heart and a fun vibe. He said no one's complained yet, and the company sold its first shirt July 4.
"We have nothing but respect for Tebow," Stiles says. "Some of our designs poke fun, while others praise him. The feedback we've had has been only positive. We'd like to think Tebow would like these shirts as well."
Stiles might be able to find that answer firsthand soon. He's considering taking his woven wares on the road, to Broncos training camp in Englewood, Colo., and to Invesco Field at Mile High once the season starts.
But even if he doesn't, Stiles is adamant that TebowTees -- which sounds an awful lot like "devotees" if you utter it fast enough -- materialized for all the right reasons.
"If we were only interested in money, we would've half-assed the design, selected the cheapest material, and we'd be around for a month and then disappear," Stiles says. "We want to provide a quality product, celebrate our new quarterback and what he represents on and off the field, and put a smile on the face of those that both see and wear the shirts."
Tracy Hackler is the editorial director of Beckett Media. Check out Beckett.com -- and be sure to get the latest news on sports cards and memorabilia at the Beckett blog. You can also follow him on Twitter.