Commentary
Braylon Edwards piles onto Cleveland
Originally Published:
August 15, 2010
By
Jerry Greene
| Special to Page 2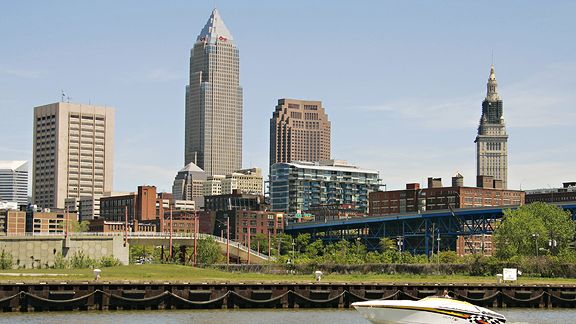 AP Photo/Mark DuncanI really wish people would stop picking on Cleveland.
OK, listen up. It's time to leave Cleveland alone.
We understood the whole LeBron James thing. Yes, he had a right to go where he wanted. And he did apologize to Cleveland (kind of). But now it seems as if everyone in sports is piling on.
Take Braylon Edwards -- please.
Greg Bishop of The New York Times wrote an excellent article on Edwards that you can read in its entirety here.
As you remember, Edwards was traded from the Browns to the New York Jets. Listening to his mother, Malesa Plater, it sounds more as though he escaped from the third ring of hell. She said: "He came from a team that was always looking for a savior to a team that knows how to win. No one would understand what he's been through unless you've been drowning."
Playing in Cleveland is akin to drowning? Choking, maybe, but drowning?
Listen to Edwards, and it sounds worse than that: "There's nothing going on in Cleveland. There's no real estate. There's no social life, no social networking. All the people who have something going on leave Cleveland. So Cleveland has nothing, and I came in there with a New York-type of essence. So what? That was the attitude I came in with. Like, this is who I am. They didn't like the flash."
Folks in Cleveland might say that what they really resented were the dropped passes. Regardless, we say let Cleveland alone, Braylon Edwards, LeBron James and everyone else.
After all, you don't have to live there anymore.
A few more minithoughts before we get to the main dishes in this Sunday Brunch:
• It seems you could hear trash talk all over the country recently. The Dolphins' Channing Crowder gave the media this demonstration of what he talks about to opponents: "Their mothers, their girlfriends, their wives, their kids, their dogs, their greasy grandmamma, whatever pops into my mind." -- Which would anger you more, a cheap shot at your dog or one at your greasy grandmamma?
• In baseball, you may have heard the trash talk by Cincinnati Reds second baseman Brandon Phillips that led to a little brouhaha with the St. Louis Cardinals: "I'd play against these guys with one leg. … I hate the Cardinals. … All they do is [bleep] and moan about everything. … I really hate the Cardinals. … Let me make it clear, I hate the Cardinals." -- So how do you feel, oh, never mind.
• By the way, don't the relief pitchers from both teams feel stupid when they run in from the bullpen side by side to reach the grabbing and shoving in the infield? Why not just grab and shove one another out there?
• How many really good male American tennis players does it take to screw in a lightbulb? -- Nobody knows because we can't find any.
• The Alabama Crimson Tide will host the Mississippi State Bulldogs in football on Nov. 13. Unfortunately, Alabama misspelled "Mississippi" on the tickets, leaving out one of those pesky P's. Another good reason for the SEC to kick out both Mississippi schools.
• What a week for Colin Montgomerie. He shot the worst two-day score in the PGA Championship, possibly because he was distracted by a sex scandal at home that involves photos of Monty. There's a long list of things we hope to never see, and sex photos of Monty are in the top three.
Trying to put those images out of our minds, let's get to the meat of the Sunday Brunch:
• No better way to start than with a top-10 list. We turn to Matt Gelfand of The Bleacher Report for a list of running backs who left the NFL too soon thanks to injury or other reasons. It's topical because of the surprising departure of San Francisco 49er sophomore Glen Coffee.
• Tiger Woods begins the fourth round of the PGA Championship 10 strokes behind, so winning a major this year is not likely. But Tiger can prove that he considers qualifying for the Ryder Cup team as a major accomplishment by playing well in the final round, according to George Willis of the New York Post. We can talk about Tiger's mediocre 10-13-2 Ryder record later.
• Mike Bianchi of the Orlando Sentinel leads off his weekend notes column by noting that new Florida State coach Jimbo Fisher already has learned one of the prerequisite skills of coaching in the South. "Lying" is such a harsh word. Let's call it "tweaking the truth."
• How good does Shaquille O'Neal look in Celtic green? Dan Shaughnessy of The Boston Globe says he looks great and analyzes just where Shaq should stand in the NBA's Parthenon of really big men.
• How bad off are the 2010 Chicago Cubs? Jeff Gordon of the St. Louis Post-Dispatch says they are no more than eight major moves from being a contender. That's right -- eight.
• Going full circle, we'll return to the New York Jets, as Greg Cote of the Miami Herald looks at the Jets and the Miami Dolphins. His conclusion is that the only difference is the Jets are so much louder and, in the case of coach Rex Ryan, so much more profane.
Jerry Greene is a retired sports columnist for the Orlando Sentinel. He can be reached at osogreene@aol.com