Commentary
Obak cards look at game changers
Originally Published:
August 15, 2010
By
Chris Olds
| Special to Page 2
After all these years, Cal Ripken Jr., Al Munro Elias, Henry John Heinz and Todd McFarlane finally have something in common.
They all appear in a set of baseball cards.
At first glance, this year's edition of TRISTAR's Obak seems like your standard retro-styled card set -- it's modeled after a line of early 1900s tobacco cards of the same name and the cards look like they could have been pulled out of a pack of cigarettes years ago.
However, a closer look at the checklist offers a history lesson in the game not seen anywhere else -- and there's no tobacco (or even bubble gum) included.
While the Houston-based card company includes all-time greats like Ripken and Hank Greenberg along with a crop of promising minor league prospects, it's a crop of "game changers" in the set that will get collectors -- and probably other sports fans -- talking.
[+] Enlarge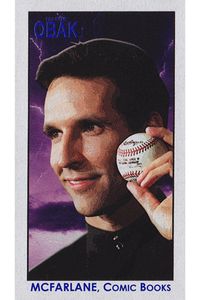 tristar obak cardsTodd McFarlane is part of a new trading card set.
That means a card of Elias, the founder of what is now the Elias Sports Bureau, the official statistician for most pro sports leagues in the country. That means a card of Heinz -- yes, the ketchup magnate -- along with a mandatory card of Harry M. Stevens, who is believed to have introduced the hot dog to baseball.
And, of course, that also means a card of McFarlane, the 1990s collecting icon and Spawn comic book creator who spent millions building his collection of historic home run baseballs. (No word on the value of his card just yet.)
In all, there are 39 cards in the 120-card set dedicated to those whose place in the game is inherently not between the white lines on the field. While those cards may not carry a whole lot of monetary value, they all tell a story about a small piece of the game. (See more images from the set here.
Other examples include a card of former Yankees pitcher Jim Bouton and former minor leaguer Robert C. Nelson -- together known as the creators of Big League Chew -- as well as a card of George Eastman, the inventor of rolled camera film and founder of Eastman Kodak.
And then there's a card of Jefferson Burdick, who thought it would be a good idea to document and catalog all of the baseball cards in existence back in 1951 with his American Card Catalog, and there's a card of former Houston mayor Roy Hofheinz, who helped conceive the idea of baseball indoors with the Astrodome, something that made baseball on the Gulf Coast (and elsewhere) possible.
The list goes on and on.
There's even a whole beverage-inventor portion of the checklist -- something that has a rightful place in the game as a must for spectators during those hot summer months at the ballpark. You know, places without domed stadiums.
That part of the Obak set includes cards of Caleb Bradham (creator of Pepsi), John Pemberton (creator of Coca-Cola), Frederick Miller (Miller Brewing Co.) and Eberhard Anheuser (Anheuser-Busch).
And what about the inventors of Cracker Jack?
They weren't forgotten -- they were just in last year's set.
Chris Olds is the editor of Beckett Baseball magazine. Check out Beckett.com -- and be sure to get the latest news on sports cards and memorabilia at The Beckett blog. You can also follow him on Twitter.