Commentary
Pat Tillman film still has questions
Originally Published:
August 17, 2010
By
Kelley Carter
| Special to Page 2
Director Amir Bar-Lev took on a pretty heady challenge: tell the story of what really happened to NFL defensive back Pat Tillman.
You remember the story -- it was almost impossible to avoid. Tillman walked away from a promising NFL career with the Arizona Cardinals to enlist in the Army in the aftermath of Sept. 11.
He was killed in 2004 and was painted a war hero, given that the initial reports were that his life was taken by enemy fire. After weeks and months of wrangling, it was determined he was killed by friendly fire, and his family feels they were sold a tall tale.
Bar-Lev's documentary, "The Tillman Story," opens Friday, and he chatted with ESPN.com about what he hopes audiences take away from a film that took him three years to make.
[+] Enlarge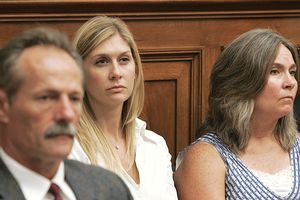 AP Photo/Susan WalshPat Tillman's family members (father Pat Sr., widow Marie and mother Dannie) listen to testimony during the hearing investigating his death in Afghanistan.
What was the genesis of this movie?
"Just looking into the story a little bit, you find that actually Pat Tilman is pretty different than what most people think he is. So any documentary film kind of chomps at the bit to be able to correct the record, so to speak. And, of course, what his family has gone through and who his family is are both just wildly compelling to me and it's not just a tragedy, it's a tragedy for our time because it's about the way we kind of skew reality to fit certain narratives."
There were several narratives going on in the film. Where did that start?
"It's really three films in one. We edited this film for a year because it was really hard to figure out how to trim it down. You have Pat and his story, you have the soldier, the platoon members, his platoon and their story, and then you have what the family went through and the cover-up. The biggest challenge for us in making this film was in trying to explain to audiences what happened the day Pat was killed. It's very, very complicated, not any two people agreed, no two people agree about exactly what happened that day."
Did you think you were going to have some resolution when you started out making the film?
"I'd like to take more credit, but the reality is everything that's in the film is publicly available. And Dannie Tillman has been screaming from the top of the hill about this stuff -- giving her un-redacted documents to anybody who will listen. Sadly, it says something about the state of journalism in the country, how spread thin journalists must be and also just about, you can't even blame it just on the media. We hear what we want to hear as a culture. In the case of Pat Tillman, a lot of times, we wanted him to be a certain person and to heck with the facts. That's what the family has been up against, both in terms of Pat's life and his death."
Why do you think it was so important that the family really wanted the real Pat to be revealed? And not the American hero he was made out to be?
"That's another one of the great things about the family: They would rather have the truth than some kind of glorified myth. And they have been facing this situation where a lot of people have put words in Pat's mouth. Pat never said one thing about why he enlisted, and he did that very deliberately. He was a private person and he didn't feel that he should get any special attention when so many other people do this."
This documentary might make people who've known someone who lost their life in the war want to reopen some investigations ...
A: "By the way, this is not an isolated incident at all, and Dannie Tillman -- through the period of time that she's been kind of in the limelight -- many mothers of families have come to her and said, 'I have a story like yours,' so she knows this whole network of women -- especially women -- whose husbands or sons, who have been lied to about how they died."

Pat Tillman
I know this is almost a horrible question to ask a documentary filmmaker, but did you ever give thought to not doing a documentary about this and instead doing a feature film about it?
"The family got many, many offers from really big directors, way bigger than I am, to make the feature film version of this and turned them down because they felt the story had already been embellished enough. They didn't want to see an actor playing their son. It still could happen, but no, we never really thought about really doing that because from the beginning the family told us that if we were going to make this film we had to do it in a way that would make it less Hollywood and not more Hollywood."
How did working on this film change you?
"As I started to have my own family, you can't help but be torn apart by what it must be like to lose a son or a daughter and then to imagine not ever knowing what really happened, to imagine being lied to over and over and over again, even by people who purport to be your allies in the government. It makes you really understand how remarkable it is that the Tillmans have persevered throughout all this."
Kelley L. Carter is an entertainment freelance journalist based in Los Angeles. She can be reached at Kelley@thekelleylcarter.com