Commentary
Lane Kiffin makes list of ideal faceoffs
Originally Published:
August 19, 2010
By
Jerry Greene
| Special to Page 2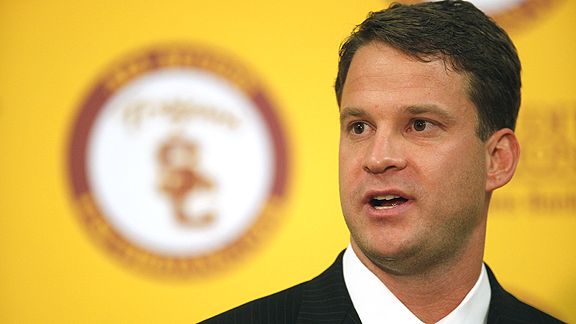 AP Photo/Damian DovarganesPage 2 readers picked new USC coach Lane Kiffin as one of the competitors in a steel-cage match.
We were inspired to ask for your help in creating a list of "Top 10 Mixed Sports Steel-Cage Matches" because of the "he said-I did not say-Liar-Liar-Pants on Fire!" confrontation between small TV reporter Jim Gray and smaller Ryder Cup captain Corey Pavin over selecting Tiger Woods to the American Ryder team.
Your answers poured in, including a two-on-one handicap match with Pete Rose and Pavin teaming up to take on Gray, suggested by Matt McT. from Scotch Plains, N.J.
Some matches seemed so obvious to so many of you that we are setting them aside:
• Mr. Woods vs. Elin Nordegren Woods (with a 9-iron often mentioned as the club of choice).
• LeBron James vs. Cleveland Cavs owner Dan Gilbert. -- Ben M. from Peoria, Ill., spoke for many of you when he declared it an "I quit" match because, according to Gilbert, that's all James knows how to do.
• Manny Pacquiao vs. Floyd Mayweather. We had to disqualify this because it would be an actual boxing match but many of you said this fantasy format is the only way we'll ever see Mayweather agree to the fight.
With those out the way, let's get to the list:
Top 10 Mixed Sports Steel-Cage Matches
10. Player Albert Haynesworth vs. Coach Mike Shanahan -- Fred G., San Francisco, who wonders whether Albert would ever be able to "run down" Shanahan.
9. Sammy Sosa vs. Mark McGwire -- Steve M., Carbondale, Ill., who suggests Jose Canseco would be the dirty guest ref.
8. Notre Dame football vs. Duke basketball, Brandon B., Barre, N.Y., who hopes they beat the stuffing out of each other.
7. David Stern vs. Bud Selig vs. Roger Goodell -- Tym R., Wisconsin, who wonders whose league will reign supreme.
6. Brett Favre vs. Roger Clemens -- Bill P., Tualatin, Ore., who wants to know who is "the most narcissistic, denial-laden athlete of our generation."
5. Prince & Cecil Fielder vs. Bobby & Barry Bonds vs. Ken Griffey Jr. & Sr. -- Jeff K., Maryland, who clearly loves a crowd.
4. Jennie Finch vs. Amanda Beard -- Chris F., New York City, who says that if you ask "Why?" about this match, he answers "Why not?"
3. Serena Williams vs. John Daly -- Carl L., Little Rock, Ark., who calls this "the sartorial showdown" and predicts Serena will beat the pants off of Daly.
2. Al Davis vs. Patrick Stewart as Charles "Professor X" Xavier from "X-Men" -- Linda R., Atlanta, who believes Davis must have hidden super powers because "how else could he still be ruining the Raiders after all these years?"
1. Lane Kiffin vs. Brock Lesnar -- Casey M., Columbia, S.C., who picked Lesnar to represent "the 98 percent of Americans who can't stand Kiffin." Sounds fair.
There you have it and we say "fine job" by all of you. Put all these steel-cage matches together in one evening and it would be a PPV to die for. Watch your back, WWE.
Jerry Greene is a retired columnist for the Orlando Sentinel. He can be reached at osogreene@aol.com