Commentary
Scott Lost goes from ring to drawing
Originally Published:
August 22, 2010
By
Kyle Kensing
| Special to Page 2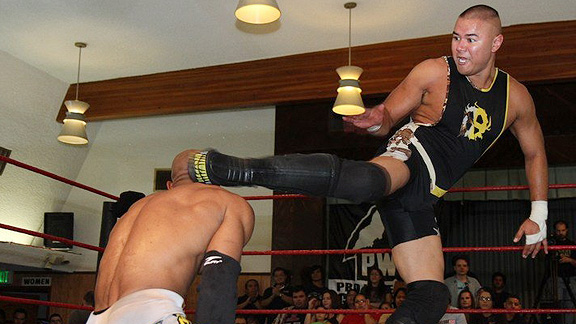 Courtesy of Devin Chen Scott Lost was a wrestler in Southern California before becoming a cartoonist.
SAN DIEGO -- Scott Lost is trading pins for pens.
Last month, the 30-year-old San Diego native closed the book on a decade-long professional wrestling career that included founding a federation, facing off against childhood idols and traveling the globe. Now, Lost begins a new book -- literally.
Lost, who is pursuing a career as a comic book artist, provided art for, fittingly, the wrestling-themed comic Headlocked," which was distributed in July at ComiCon in San Diego.
His wrestling persona, Lost said, finds its way into his artwork.
"The characters I've created are just like my wrestling character in the fact that they're all a part of my personality," he said. "Each represents different ways my brain thinks or acts, things I've wanted to do or things that I have done. It's a bit of a detective story, a bit of everyday life."
Of course, everyday life for Lost -- born Scott Epperson -- hasn't exactly been the same as it is for others. Ten years ago, he began following one of his youthful dreams, wrestling, with a promise to walk away at age 30.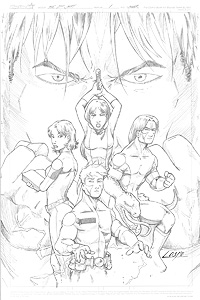 Courtesy of Scott LostScott Lost is trying his hand as a cartoonist and here's a sketch.
His 30th birthday came this past June, and true to his word, Lost stepped out of the spotlight. Commitment to self-imposed mandates is something of a theme with Lost, who said as a child he wouldn't allow himself to leave the house before finishing a drawing.
Art was a constant fixture of his life -- his father painted, but Lost, more inclined to draw, took inspiration from DC Comics' artist Jim Lee.
"I wish," he said of having the same freedom to dedicate time to his art now. "Being a grown-up means having very little time to yourself, which means me drawing every free moment I've got. But I do draw for hours every day."
Lost stepped away from the squared circle after a July 30 show for Pro Wrestling Guerrilla, a Southern California-based federation that Lost helped found in 2003 with five other wrestlers.
"We all pooled our resources together and started this [federation]. There were a lot of little feds, but we wanted to keep busy," he said. In seven years, PWG has grown to be the biggest independent wrestling promoter on the West Coast.
"Within a year I realized the promoter side wasn't for me," he said. "What really hit me was when older wrestlers I looked up to were talking to me like the boss."
As a wrestler, Lost made stops across the United States, Europe and Japan. Earlier this year in a PWG show, he was opposite Japanese legend Great Muta, who Lost called "the Hulk Hogan of Japan."
"I could have retired right then and there," he said. "It was the biggest match ever for me."
Six months later, he retired. And turned his attention to the drawing board.
Kyle Kensing is a freelance writer for Sports Media Exchange, a national freelance writing network.