Commentary
In Detroit, vendor sings, sells hot dogs
Originally Published:
August 22, 2010
By
James Briggs
| Special to Page 2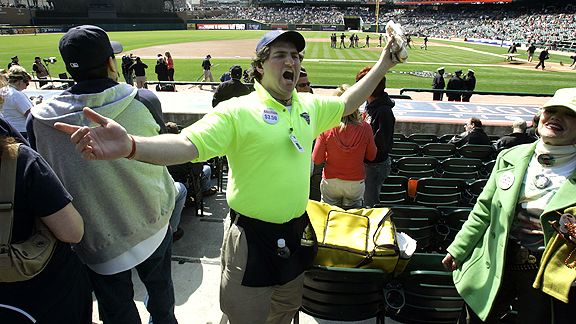 AP Photo/Carlos OsorioVendor Charley Marcuse belts out his call for hotdogs for the Detroit Tigers at Comerica Park.
DETROIT -- Charley Marcuse and his boss, Jeff Behr, have a disagreement.
Marcuse, who's been dishing out hot dogs to Detroit Tigers fans since Tiger Stadium's final season in 1999, thinks baseball fans visit Comerica Park, at least in part, to hear him sing.
Behr, the general manager of SportService in Detroit -- the Tigers' food vending service -- thinks fans would rather lick mustard off a bleacher than hear one more note from Marcuse's prolific mouth.
The truth, as they say, is likely somewhere in the middle.
What's undeniable, though, is that anyone who sits within earshot of Marcuse's area -- Comerica's 100-section, near the Tigers' dugout -- will hear his now-famous operatic rendition of "Hooooooooooooooot Dooooooooooog!"
Marcuse began his singing spiel during a 1999 Three Tenors concert at Tiger Stadium. He found success and transferred his act to ballgames.
"People have a lot of fun with it," Marcuse said during a rain delay at a recent Tigers game. "That's why I keep doing it. It started as an advertising gimmick. It's a commission business, so why are people gonna buy hot dogs from me? You have to have a little fun with it."
While there has been some controversy -- the Tigers in 2004 put a muzzle on Marcuse, before backing off because of fan protests -- Detroit's singing hot-dog man is as much a part of Tigers baseball as the seventh-inning stretch.
In fact, it's become an inescapable tradition. Whether you're in the left-field seats, as far back as the distant statues of Al Kaline and Ty Cobb, or even outside the ballpark, you can hear Marcuse, whose voice is not music to every fan's ear.
"They are kind of humorous, I can say that much," Behr said of fans' complaints. "Obviously, fans are here to see the players, not be entertained by us."
Marcuse now limits his singing to after the Tigers have batted and before the opposing team bats at the top of an inning.
"It's been agreed to he's not going to do it when the Tigers are batting," Behr said. "We don't need to distract the home team."
But the restrictions end there.
"Have we told him to shut it down? No," Behr said. "He just has to realize fans are here to see the game."
Marcuse insists he gets it, and just tries to add a little flavor -- literally -- between innings.
"People out there constantly are begging me to sing and asking me to sing, but they're not the ones writing letters," he said. "So, now I don't sing as much as I once did, but I still sing quite a bit. I think it works for everybody."
Marcuse, who also works at a men's clothing store in suburban Detroit, has parlayed his fame -- or infamy -- into his own line of mustard, Charley's Ballpark Mustard. The container features a caricature of Mancuse singing and the tagline "It will make you sing!"
And, regardless of his detractors, Marcuse continues to sell hot dogs with his voice.
"I think it's awesome," said Weston Lee, 17, a frequent patron of Marcuse's area. "People have their own little thing they do to get people to buy stuff, but I think his is the most unique. Every single time he comes down here, someone gets a hot dog."
James Briggs is a freelance writer for Sports Media Exchange, a national freelance writing network.