Commentary
NFL shouldn't take fans for granted
For years, Tuesday Morning Quarterback has been warning that there is no law of nature that says the NFL must always be so popular. People need food and shelter -- they don't need NFL tickets, something for management and labor both to keep in mind as spoiled rich athletes and arrogant rich owners fight over the spoils in the latest round of NFL-NFLPA bargaining, potentially turning off the public.
Latest evidence that there's no law of nature about football popularity? Ticket sales problems at the $1.7 billion new stadium of the Giants and Jets.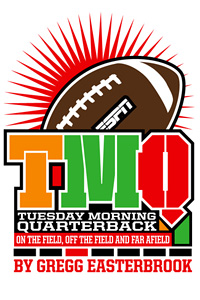 For a generation, both teams have played to perpetual packed houses. Both have boasted tens of thousands of names on seasons-ticket waiting lists. Both went into marketing of the new stadium thinking no price could be too high for PSLs and tickets. Both found out otherwise.
In June, the Jets still had 9,000 unsold club-seat PSLs -- raising the possibility that home games would be blacked out. Jersey/B quietly cut the price of unsold PSLs by 50 percent, then, to prevent a revolt in the stands, refunded 50 percent of the price already paid by those holding similar PSLs. The team reasoned it was better off with less PSL income but every seat taken.
This month, the Giants quietly began to offer single-game tickets for sale: normal for many sports teams, unheard of in this case. PSL holders get first call on the individual tickets, but if they don't all move, then individual tickets will be offered to anyone.
The Jets badly misjudged the market, pricing their PSLs too high, some at $20,000 -- plus $5,000 or so per year for the tickets. The Giants offered PSLs for somewhat less, but still wanted a pretty penny too, $1,000 to $5,000 for regular bowl seats that previously cost season-ticket holders nothing more than the face price of the tickets.
Those lists of tens of thousands of names? History. Many Giants season-ticket holders did not renew, and hardly anyone on the waiting lists stepped up for the privilege of paying thousands of dollars in order to spend still more on tickets, to say nothing of $12 beers.
Even in the 10 million-person New York City area, there were not 165,132 (capacity times two) gullible fans for whom money was no object when it comes to the NFL. Even the affluent of midtown Manhattan and the Jersey 'burbs recoiled when they saw the Jets and Giants prices.
This is a warning -- there is no law of nature that says the NFL must remain America's No. 1 sport. There can be saturation points -- too many games, too-high prices, too much spoiled or arrogant behavior by players and owners.
The kicker: no corporation has bought naming rights to the new stadium, either. Even though it's New York -- bearing in mind that for NFL purposes, New York is located in New Jersey -- and New York City is the world capital of promotion, so far no corporation thinks it's worth the money to put its name on the facility. This is another warning sign that the NFL can reach a saturation point.
Owing to the lack of a corporate sponsor, the place where these teams will play is, for the moment, called New Meadowlands Stadium -- what a dullsville name. Note that except on the "contact us" tab, it is difficult to find the words "New Jersey" on the stadium website. New Jersey taxpayers were hammered to build this stadium; why isn't their state's name prominent?
As for the name? Tuesday Morning Quarterback thinks East Rutherford should change its name to The Swamps -- this actually has a lot more promotional appeal than East Rutherford. The facility itself should be named Somewhere, which has a dreamy, mystical ring. Then announcers could say, "Welcome, everybody, to today's game from Somewhere, in The Swamps of Jersey."
That's today's Tuesday Morning Quarterback Trailer -- check back tomorrow for the full-length feature column.
In addition to writing Tuesday Morning Quarterback for Page 2, Gregg Easterbrook is the author of the new book "Sonic Boom" and six other books. He is also a contributing editor for The New Republic, The Atlantic Monthly and The Washington Monthly. His website can be found here.