Commentary
Top 10 worst major college mascots
Originally Published:
August 26, 2010
By
Jerry Greene
| Special to Page 2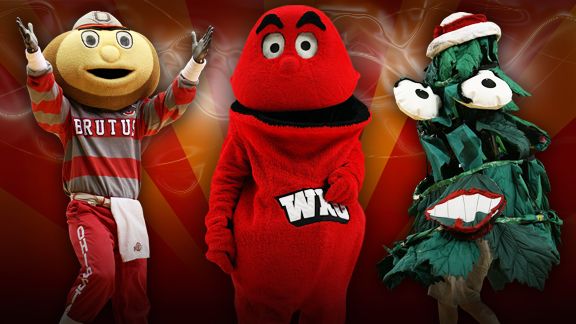 ESPN.com IllustrationPage 2 asked readers for help picking the worst college mascots. Which one won?
We think that we shall never see -- a worst mascot than a tree.
With apologies to poet Joyce Kilmer, we paraphrased the opening line of his famous "Trees" to introduce you to the runaway winner of our "Worst Major College Mascot" competition (even though it is a stretch to think of a tree as a "runaway" winner of anything.)
The Stanford Tree actually is the unofficial mascot of the university, as it is a creation of the school's marching band. It's been a "substitute mascot" since 1982 because Stanford's nickname is "Cardinal" -- and they don't mean the bird but the color.
Really, really tough to have a mascot that represents a color (and don't mention the Syracuse Orange, because that's another story). So the band created the "Tree," and it has been acting weird on sidelines ever since.
Perhaps the biggest problem with the Tree (other than the "drinking problem" it has had in certain years) is that it just doesn't make sense. "Hello! Trees do not move around. They are rooted in the ground. That's how they stay alive," said Jack F., Falls Church, Va.
Not that the Tree was the only mascot you found to be lacking. Hardly. You suggested dozens of them, so we had no problem producing this week's list:
Top 10 Worst Major College Mascots
1. Stanford (Cardinal) Tree: "A Christmas tree with ornaments and a face? Can you say 'freaky'?" wrote Nathan S. of Parts Unknown, Ind.
2. Penn State Nittany Lion: "A cross between a kangaroo and a trailer park bath mat," wrote Mike B. of Chicago.
3. Notre Dame Leprechaun: "Nothing better to represent one of the most prestigious Catholic schools than a small, drunken and bearded imaginary Irishman," wrote Ben M. of Peoria, Ill.
4. Ohio State Buckeye: "Come on, people, it's a nut. Why would you choose a nut to be your mascot? And why would you name it Brutus?" wrote Erica S. of Chicago. Added Natalie Y., of Cleveland, "A poisonous nut is not exactly a mascot to make foes tremble."
5. Western Kentucky Big Red: "An over-sized Elmo on steroids," wrote Seth S. of Philadelphia.
6. Akron Zips: "Originally, Zippers after a rubber overshoe. Really? A rubber overshoe? And your mascot is a kangaroo. It's Akron, not Australia. No wonder LeBron James moved to Miami," wrote Alex of Littleton, Colo.
7. Syracuse Orange: "A flashback from a bad acid trip in the '70s. As a Syracuse fan, I cringe at the sight of it." -- Jerry, Austin, Texas.
8. Nebraska Cornhuskers: "Herbie the 'Husker isn't a person in an animal suit but a person in a person suit! And he has this weird maniacal glint in his eye. I wouldn't want to meet him in a dark cornfield," wrote Kirsten H. from somewhere in Big 12 territory.
9. Alabama Crimson Tide: "But their mascot is Big Al, a red elephant? Is that coherent? Anybody? I thought so," wrote Casey J. of Gainesville, Fla.
(Casey, did you consider that it is easier to get ivory from elephants in Alabama because of Tuscaloosa? We're here all week.)
10. Michigan State Spartans "Sparty": "The dude wears a skirt and bracelets. Seriously," wrote Adam W. of Churubusco, Ind.
Also getting a lot of support where the Auburn War Eagle, Maryland Terrapins, Delaware Blue Hens, Oregon Ducks, UTEP's Paydirt Pete, TCU Horned Frogs, Minnesota Golden Gophers and Wake Forest Demon Deacons.
We limited our competition to "major schools" that played in the Football Bowl Subdivision, which is why the famed Banana Slugs of UC Santa Cruz did not make the list. But we still want to share one mascot name that is new to us, as offered by Michelle H. of Decatur, Ga.: "You must mention Oglethorpe University's Stormy Petrels -- a flock of 'small birds' that will fly into hurricanes and tornadoes."
Consider them mentioned, Michelle.
Jerry Greene is a retired columnist for the Orlando Sentinel. He can be reached at osogreene@aol.com.