Commentary
Bruce Buffer making name for himself
Originally Published:
August 27, 2010
By
Tracy Hackler
| Special to Page 2
Saturday night in Boston, MMA legend Randy Couture will battle former boxing champion James Toney in the co-main event of UFC 118. In the other headliner, Frankie Edgar will defend against B.J. Penn the lightweight title he wrested from Penn via decision at UFC 112 in April.
It should be noted, however, that no one will fight anybody until Bruce Buffer says so. More precisely, no one will fight anybody until Buffer excitedly booms "It's Time!"
It has preceded the most meaningful main events in the history of mixed martial arts and the fascinatingly multifaceted force responsible for its impeccable delivery is nothing less than modern-day renaissance man.
He's a motivational speaker. A business manager. A veteran martial arts practitioner. A show promoter. A successful part-time professional poker player. A comedic thespian. An astute collector of authentic World War II militaria and original movie posters from the golden age of cinema. He's the grandson of 1930s boxing champion Johnny Buff.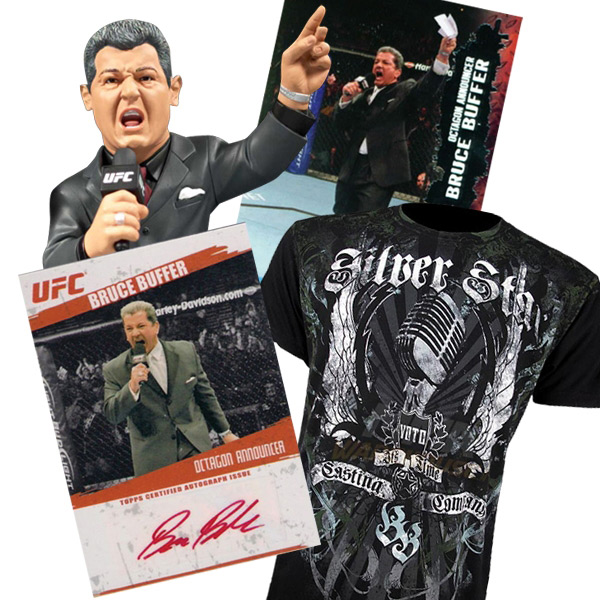 Courtesy of Beckett MediaBruce Buffer is everywhere these days. Trading cards. Figurines. Autographs. It's Time!
Still, it's Buffer's scintillating, scene-setting work in the Octagon that has made him collectible himself. He can wear his own signature Silver Star T-shirt while cataloging his 18 different trading cards (average value: $23) as he is playing the videogame that bears his rafters-raising introductions. And on Friday at the UFC Fan Expo in Boston, he got the first glimpse of the Round 5 Bruce Buffer figurine.
Long before the "Veteran Voice of the Octagon" became the UFC's every-event ring announcer at UFC 13 -- and as such, a uniquely integral part of the whole experience -- he was managing the career of Michael Buffer, his pioneering older half-brother.
In this exclusive interview, Buffer verbally spars with such hard-hitting questions as what it's like appearing on his own action figure and fighting his famous older brother.
What does it mean to you to be appearing on your own trading cards and figures?
"It's a childhood dream come true. Collecting Topps trading cards when I was a kid or playing video games when I was younger, and suddenly seeing myself on Topps trading cards and videogames … it's a complete honor. On the action figure by Round 5, not to coin a pun, but it kind of rounds everything out. It's amazing.
How much input did you have on the design of your figure?
"Just the fact that I took the pictures for them and I left it up to them. Because Round 5 does such an amazing job and I was very confident in how they would do it because it's very over-the-top and arcadish style -- and that's OK. That's what I like. Jakks makes great figures too but Round 5, to me, are a lot more fun and a lot more attractive."
What would be more exhilarating for you: Introducing a UFC main event or playing at the final table at the World Series of Poker?
"[Laughing.] If I was at the final table at the World Series of Poker, that would probably be the most exciting thing I've ever done in my life. And believe me, the UFC, the announcing in the Octagon, is extremely exciting. I try to bring it, as they say. I give 150 percent every night. My passion is rising by the month with the UFC and I've been in it now for -- what -- 16, 17 years and announcing for at least 14 or 15 of those years. All I can say is that when the passion dies or starts to wane, then I'll seriously consider that it's time to leave. But I don't see that happening for 10 or 15 years, if at all."
What's been the single biggest highlight of your UFC career?
"You know, it changes. I walk out in the Staples Center in Los Angeles and we have a UFC there and that's like another level. And then I'll walk out in Madison Square Garden hopefully next year and that's going to be one of the greatest moments of my UFC career. Going into England and the UK. They're just allowing us to keep experiencing these heightened moments. You just don't have the greatest moment, you have a batch of great moments. That's just an incredible thing to be able to experience when you're doing something that you love to do and you're making money from it."
You were actually managing Michael's career when you decided to become a ring announcer yourself, right?
"Yeah, I've been managing his career for almost 20 years and I always wanted to announce boxing but we agreed that (A) there's no money in it, he was the only one making a full-time living; and (B) it would be a conflict of interest. So I thought, well, something will come along. I was a motivational speaker and I've been in front of crowds a lot and I'm very comfortable with that. And then when the UFC came on, through a series of events, I managed to become the announcer for the UFC."
You announced some preliminary fights at UFC 8 and the main event at UFC 10. When did you become the full-time ring announcer?
"I was asked to come and appear on 'Friends,' and I did. When I was there I talked to [UFC] owner Robert Meyrowitz. I said 'Look, here I am appearing on "Friends." I've been telling you that I want to be the announcer for every UFC. Now, you're putting me on a show, which I agreed to be on, and everybody's going to think that I'm the UFC guy because I'm co-starring as myself along with John McCarthy and Tank Abbot. Let's make the deal. Let's make a deal and I'll do every show.' That was the best poker hand I ever played. From UFC 13 on, except for one Japanese show, I've done every single one. I'm kind of the Ironman, the Cal Ripken of the UFC."
How do you condition your voice or keep your voice in shape for the long haul?
"A good glass of red wine. Good steam the morning of the show. I don't do anything. I just get out there and do it. I don't practice, I don't rehearse. I just stay healthy. I'm a healthy individual. I've been an athlete my whole life, and I just try to take care of every part of my body."
Is there any doubt who would win in the Octagon between you and Michael?
"I love him. He's my brother. He's a pretty boy. We don't want him to go there."
Tracy Hackler is the editorial director of Beckett Media. Check out Beckett.com -- and be sure to get the latest news on sports cards and memorabilia at the Beckett blog. You can also follow him on Twitter.