Commentary
ESPN film looks at Little League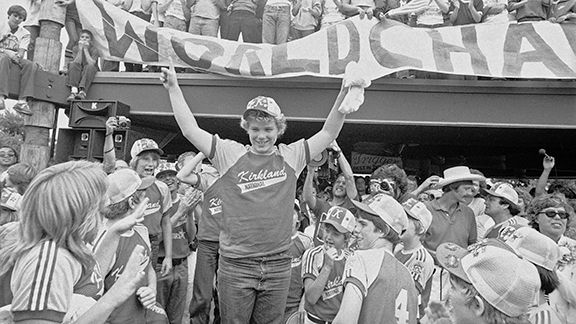 AP PhotoAs a 12-year-old, Cody Webster was a hero in the Little League World Series.
WOODINVILLE, Wash. -- The curly blond mop of hair is gone, now a salt-and-pepper crew cut. So is the smooth-skinned baby face, covered with a neatly trimmed beard.
Cody Webster, once a Little League World Series phenom, leans on a bat while he talks, watching pitchers he's coaching at a youth baseball practice Sunday.
He's got his eye on the future, but only now is getting comfortable with the past. Webster and most of his 1982 Kirkland Little League teammates live close by. The team that upset Taiwan to win the Little League World Series will be in the spotlight again Tuesday, when "Little Big Men," an ESPN 30-for-30 film, airs.
Webster, then 12, was the star. Towering over his teammates at 5-foot-7, 175 pounds, he mixed curveballs and 75 mph fastballs to pitch a two-hitter. He also walloped a 280-foot home run in the first LLWS championship broadcast on TV. Later, ABC's "Wide World of Sports" used the Kirkland team's final-out jubilation, with Webster leaping in the air, for its "thrill-of-victory" clip.
Webster wouldn't trade that time, or the lifelong friends he made, for anything, he said. The team got a parade. Webster appeared on "Good Morning America," met the governor, threw out the first pitch at Shea Stadium.
But early fame came at a big price for the overgrown, shy kid whose size and skills peaked before everyone else caught up.
[+] Enlarge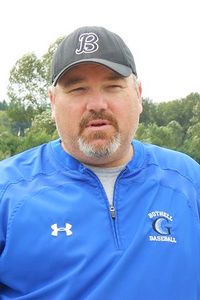 Courtesy of Meri-Jo Borzilleri Today, Little League hero Cody Webster has no regrets.
Expectations grew beyond realistic. Jealous players, and even adults, piled on the pressure, jeering Webster's failures -- big or small.
For the rest of his childhood and longer, Webster bore most of the ugliness. Fans would mockingly call out "Little League hero" from the stands. He was even spat on.
"A lot of us got all of the good parts of it and none of the bad," said teammate Shawn Cochran. "Sometimes it can be hard, the judgments people make on you. Cody got the brunt of it because he was the big name."
Even in college at Eastern Washington, Webster couldn't escape. TV crews carried his collegiate baseball debut live.
"I was good when I was 12," said Webster, who stands just four inches taller now. "I was average when I was 18."
Because of a shoulder injury, Webster played just one college season.
"It was the perfect excuse to start coaching," he said. "I wanted to coach since I was 16."
Webster, who is single and lives a quiet life, worked for a shipping company and coaches baseball on the side. But he found he could hardly enjoy the accomplishment that tickled so many Americans in 1982.
"It's hard when people meet you and say, 'Well, what happened to you?' I'd say, 'What do you mean? I'm standing right here,'" he said. "You get tired of that stuff. It beats you down. I'd be happy to sit in a room and having no one know. I just want to be Cody."
It is only now, at age 40, that Webster has allowed himself to enjoy the sweet, simple joy of being out with his buddies during that memorable time.
Filming the documentary brought back the magic, got the guys together again, blotted out the bad stuff.
"I'm not bitter about it," he said. "I wouldn't change a thing."
The team sold all 215 tickets to Tuesday's documentary viewing party at a Seattle restaurant. The proceeds will help launch the Pat Downs Foundation, in memory of their coach who died in 1997. The foundation will help low-income kids play baseball.
For Webster, baseball has again become life's central focus. The shipping company closed recently, a victim of the stalled economy. So Webster decided to open a baseball academy. He'll coach, do personal training and donate services to the foundation.
Though somewhat reluctantly, he's named the company Cody Webster Baseball.
"I've always been a private person," he said, then smiled. "But I'm not stupid. I know my name is one of the biggest things I have going for me."
Meri-Jo Borzilleri is a freelance writer for Sports Media Exchange, a national freelance writing network.