Commentary
Pamela Anderson is on trading card
Originally Published:
September 5, 2010
By
Chris Olds
| Special to Page 2
We've seen plenty of Pamela Anderson through the years as she's appeared on the big screen in absolute classics like "Barb Wire" and "Scary Movie 3" along with small-screen staples like "Home Improvement" and "Baywatch."
We've literally seen Anderson everywhere -- on covers of magazines, in music videos, in her work for PETA, you name it. But we've never seen her in one place that's probably pretty familiar to sports fans.
On a baseball card.
Now you can scratch that one off the list, though, as the blonde bombshell will be included in the upcoming Donruss Elite Extra Edition baseball card set from Panini America, which arrives on Sept. 29. Why? She's a big supporter of the Pepperdine University baseball program, where she can be found in the stands watching the Malibu, Calif.-based Waves compete.
[+] Enlarge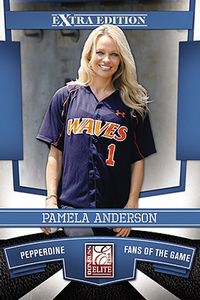 DonrussPamela Anderson is on a trading card. Yes, the Pamela Anderson.
While Anderson having a baseball card should be a surprise for fans, it was a surprise for those involved with the Pepperdine program, too.
"I was excited to hear about the card," Waves head coach Steve Rodriguez said. "I thought it was a great idea."
Unlike other stars who are dedicated followers of sports programs who will appear on posters or other items to help promote the school, Anderson doesn't have much, if any, Pepperdine memorabilia because she prefers to be low-key in her support, according to Rodriguez.
"Pamela likes to do things without all the publicity," he said. "She is a huge believer in helping out people and functions in her community without the notoriety because she feels that what people should do."
For those who don't know, Elite Extra Edition is a perennially popular product that focuses on baseball's top prospects, and it shows them in their NCAA uniforms rather than their MLB threads. It's one of just a few trading card sets officially approved each year by the Collegiate Licensing Company.
Anderson will appear on card No. 100 in the set when it arrives later this month, and not only will fans of the 43-year-old former Playboy model have her regular card to chase, but she's also hand-signing 35 copies of the card that will be randomly included in packs.
"The addition of Pamela Anderson came about quite simply because of her association with Pepperdine baseball," said Panini America Brand Manager Mike Payne, who builds product lineups for the company. "Specifically, it was her role as a superfan at games she attends with her sons, who have also participated in the Pepperdine baseball camps and have served as batboys."
In recent years, Panini (formerly known as Donruss) has produced countless cards with celebrities and other athletes in the mix, touting A-listers' interests in particular teams on "Fans of the Game" cards.
It's perhaps a surprise that Anderson has not been included on some type of card sooner she was famously "discovered" in the stands at a Canadian Football League game years ago but this time around she's flying solo, Payne said.
"[The set] has been primarily about baseball over the years, but some entertainment personalities have found their way into past sets" Payne said. "She is the only Fans of the Game addition in this release."
Rodriguez said Anderson has helped the program with donations, helping with fund-raisers and even landing memorabilia for auctions.
"Pamela remains involved with our programs in many ways," he said. "She is a very busy person and does events all over the world, so she comes to our games with her boys -- or their whole team -- when she can. She is very active in our fund-raising efforts for our program by getting amazing auction items for our functions."
But it's this newest piece of memorabilia that might get some attention on campus even though seeing celebrities at events is pretty common, according to Rodriguez.
"When you live in an area like Malibu, you are very accustomed to seeing celebrities on a regular basis," he said. "I think the people who are most surprised are the visiting teams when they see her sitting in the front row right above our dugout. She is very gracious about taking pictures with fans and even some professional scouts. She is an amazing person with a heart to help others."
Chris Olds is the editor of Beckett Baseball magazine. Check out Beckett.com -- and be sure to get the latest news on sports cards and memorabilia at The Beckett blog. You can also follow him on Twitter.