Commentary
Sparky Lyle highlights the All-Fire team
Originally Published:
September 4, 2010
By
Rob Daniels
| Special to Page 2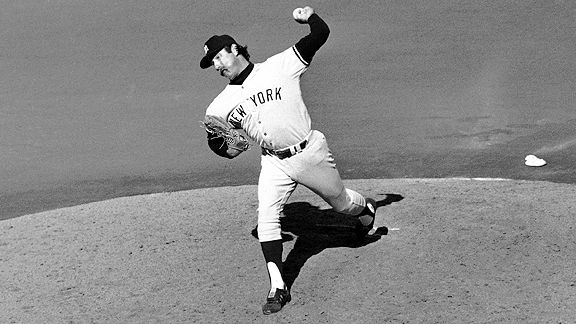 AP PhotoAlbert Walter Lyle was nicknamed "Sparky" because he spoke his mind for the New York Yankees.
Take cover. Find Denis Leary and the rest of the gang from "Rescue Me." And apologize to U2 on our behalf for stealing "The Unforgettable Fire" as background music for this, our All-Fire Team.
Arthur Brown: The psychedelic rock star of that name is famous for his hit "Fire," which topped the UK charts in 1968 and which was recorded with his band, "The Crazy World of Arthur Brown." Things weren't quite so wacky in the universe of White Sox farmhand Arthur Brown, who hit 19 homers in three seasons of pro ball in the 1950s.
Evers Burns: His name sounds like an eternal flame, but Evers sadly burned out of the NBA after 23 games with the 1993-94 Sacramento Kings. In his defense, there probably weren't many shots available to a rookie on that squad. Five of his teammates Mitch Richmond, Wayman Tisdale, Spud Webb, Olden Polynice and fellow ex-Maryland Terrapin Walt Williams -- scored more than 8,000 NBA points apiece.
Fireman Casey: Hugh Thomas Casey was a fireman when the title didn't exist in baseball. He converted the first of his 55 career saves 30 years before the feat was first recognized as an official statistic. Casey debuted with the Cubs in 1935 and played 14 years in the Majors. The saves were credited retroactively upon examination of box scores, and Casey is one of fewer than 75 pitchers in history with 75 or more wins and 50 or more saves.
Truck Robinson: Leonard Eugene Robinson put up the 54th-best single-season rebounding performance in NBA history with 1,288 boards for the 1977-78 New Orleans Jazz. But Truck's no Yugo. Some context on Truck's ability to haul 'em down: The top 53 single-season rebound totals were all accrued by Hall of Famers. (And only 11 of them, by the way.) Robinson happened to lead the NBA in 1977-78, and his total beat his nearest competitor by more than 200.
Matches Kilroy: Matthew Aloysius Kilroy got lit up often -- if only because he pitched so often. In 1886-87, he was the starting pitcher in 137 of the Baltimore Orioles' 266 games. In other words, you could go to just about any mound in the American Association, the Players League or the National League in the late 19th century and be pretty confident in saying, "Kilroy was here."
Sparky Lyle: At first, teammates referred to Albert Walter Lyle as "Count" for the way he slicked back his jet-black hair like something out of Bram Stoker's deranged visions. But when he began speaking his mind about the timing of his late-game appearances for the late-1970s Yankees, he and his incendiary rhetoric became known as "Sparky." At any rate, he fell one win short of becoming one of only five pitchers with 100 or more wins and 200-plus saves in a career. And he was a teammate of Tug McGraw's on the 1980 Phillies. Think that bullpen had some interesting conversations?
Ville Siren: When the Siren called for Ville, it often signaled a change of venue. Siren played for eight Scandinavian pro hockey teams and the national squad of his native Finland, which he helped qualify for the 1984 and '92 Olympics. In the NHL, he saw time with the Minnesota North Stars and Pittsburgh Penguins.
Ryan Sutter: Trista Rehn's choice of a husband on "The Bachelorette" in 2003 is now a firefighter in Fort Collins, Colo. He's here because he played in the NFL. Barely. Specifically, he saw one play in the NFL, suffering a shoulder injury while making a tackle in his first and only appearance for the 1998 Carolina Panthers.
Rob Daniels is a freelance writer for Sports Media Exchange, a national freelance writing network.