Commentary
Lacrosse star teaches elementary
Originally Published:
September 6, 2010
By
Shane Mettlen
| Special to Page 2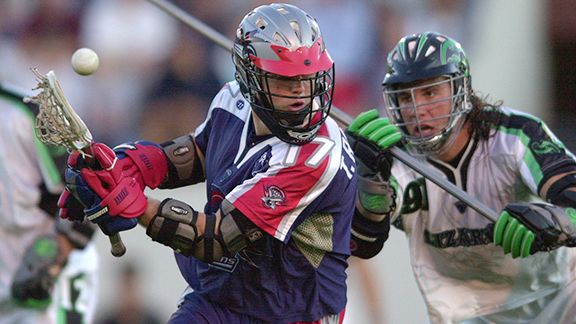 Ezra Shaw/Allsport/Getty ImagesBrian Spallina (right) heads back this week to teach elementary school on Long Island.
When school starts on Long Island this week, Brian Spallina will trade in his lacrosse stick for a ruler. Instead of throwing cross checks and accruing penalty minutes, he will correct journals and write subtraction problems on a blackboard.
And he'll trade in four-letter words for, well, four-letter words.
"It's like he suffers from multiple personality disorder. One moment he's normal, and when he puts on that jersey and grabs his lacrosse stick … look out," said Quint Kessenich, ESPN's lacrosse analyst and former Johns Hopkins goalie.
Such is Spallina's life. Often called a "maniac" on the field, when the summer ends, Spallina hangs up his dirt-stained Long Island Lizards uniform in favor of the more conservative get-up of an elementary-school teacher. It's a slippery slope for a guy who juggles two sometimes competing passions -- playing lacrosse and teaching.
"He totally clicks into a different mentality," Kessenich said. "He plays mean and angry, like he really doesn't like you at all. He steps on the field with an attitude, talking smack the moment he leaves the locker room. He can't be missed with his rock star hair hanging down his jersey and his black socks pulled up to his knees. If you had to create a cartoon character of what your goon defender would look like, Brian's image is what you'd use."
But in the classroom, the long-haired wild man, who starred at Hofstra, is just the kind of teacher that parents and administrators trust to mentor elementary aged students. This year, he will switch from teaching first grade to second.
And when he's in the classroom, he will do his best to keep his "summer job" quiet.
"It works to my advantage to keep that under wraps until the end of the year," Spallina said, "because my style of play sort of contradicts what I preach on a daily basis in the classroom."
Of course, it's not always possible to keep lacrosse and the classroom separate. It's inevitable that a student will go to a game or see "Mr. Spallina" on TV. And then he's got some explaining to do.
"It is interesting when the kids come to a game because they get to see me in a different light," Spallina said. "It makes for a fun Monday morning when I get to explain why I was in the penalty box a couple of times. I try to keep the professions separate, but at the end of the year I do enjoy it when the kids get the opportunity to come to the games."
When lacrosse does come up, Spallina tries to use it as a teaching tool. He can teach his students about success -- he has four Major League Lacrosse title rings and was named an all-star for the third time this season. Spallina nearly won a fifth championship, but the Lizards lost to the Chesapeake Bayhawks, 13-9, in the league championship in late August. Win or lose, there are lessons to be learned.
"It's not always easy to explain why I hit the guy who shot the ball after the whistle," he said. "You tell them that hitting and pushing and shoving isn't acceptable on a daily basis, but sports is an outlet for kids sometimes. It's a matter of teaching life lessons about when it's OK to be aggressive."
Shane Mettlen is a freelance writer for Sports Media Exchange, a national freelance writing network.