Commentary
Robert Horry signs 1st trading card
Updated:
September 11, 2010, 12:22 PM ET
By
Chris Olds
| Special to Page 2
When you played 16 seasons in the NBA and won seven championship rings, you did plenty.
But there was one thing that Robert Horry never did during his pro career -- he never signed a basketball card featuring him in an NBA uniform for a trading card company.
Despite all those clutch shots that helped the Houston Rockets, Los Angeles Lakers and San Antonio Spurs win it all -- a few times -- there weren't any certified autographs (cards he was paid to sign that were then placed into packs) showing him in any of those uniforms.
[+] Enlarge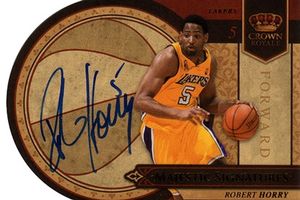 PaniniFor the first time, Robert Horry has signed his autograph to a trading card.
But all that has changed.
Panini America, the lone licensee of NBA basketball cards, landed Horry for his first certified pro autograph in its new 2009-10 Season Update set, which recaps the year with players in their most-recent uniforms while ramping up for the new season with other interesting inclusions like Horry and the first LeBron James cards as a member of the Miami Heat to be found in packs.
So, was Big Shot Rob a reluctant signer? Was he too expensive to land or was he missed by other card companies?
"Robert just changed his signing habits and decided he would like to have his autograph included in trading card products," said David Porter, a basketball brand manager for Panini. "He was an excellent signer who returned his cards promptly."
Horry actually signed three different cards for the set -- one limited to 99 copies, one limited to 50 copies and one limited to just 25 copies. The easiest one to find, which shows him as a Laker, has fetched as much as $150 and is consistently selling for more than $100. That's more than an Horry-signed replica jersey goes for these days, so it shows that collectors of those championship teams have had definite holes in their card collections.
And as one of only a few players in recent years with that many rings -- Horry has more than Michael Jordan and Kobe Bryant -- he is a natural fit for a possible championship-themed card or two from Panini.
"Look for him to be used as a Laker, Rocket and Spur in future Panini releases," Porter said. "And I'm certain that we'll highlight his seven championship wins in a future product."
It's pretty unusual for a modern-day player to go an entire career without a signed NBA card these days considering that even low draft picks and free agent pick-ups often have autographed cards regardless of whether they ever set foot on a court as a pro.
Other notable players who have signed in the past, but not often, include Scottie Pippen and Chris Mullin -- and both were landed by Panini this year. However, Pippen and Mullin had signed NBA cards in the past, unlike Horry, whose only other certified autographs came back in 1992. Horry signed draft picks cards showing him in his University of Alabama uniform for StarPics and Classic.
While those cards aren't all that expensive, Horry's overall lack of autographed cards means collectors will fight over them in online auctions. Horry's StarPics card, for example, doesn't appear on the auction block often. When it was more commonly sold and many more copies were available (closer to its release in 1992) it typically was just a $10 card. However, one recently sold on eBay for $64.50.
It's those kinds of untapped markets that Panini is looking for -- and Porter added that Horry's example isn't a happy little cardboard accident.
"We are always looking for players who haven't signed many certified autographs in trading card sets," he said. "And we are currently pursuing several more players who fall into that category."
Chris Olds is the editor of Beckett Baseball magazine. Check out Beckett.com -- and be sure to get the latest news on sports cards and memorabilia at The Beckett blog. You can also follow him on Twitter.