Commentary
Maya Gabeira rides wave on East Coast
Originally Published:
September 16, 2010
By
Shane Mettlen
| Special to Page 2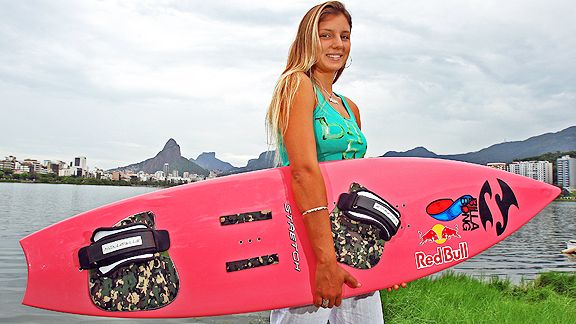 Ivo Gonzalez/Globo/Getty ImagesBrazilian surfer Maya Gabeira is checking out the surfing on the East Coast this week.
Maya Gabeira grew up on the beaches of Brazil, but this month, she'll be hanging ten in the Atlantic.
Yep, you read that right.
Gabeira, an ESPYS winner and one of the most successful female surfers in the world, will ride her pink surfboard off the best beaches the East Coast has to offer while spreading the "Aloha spirit" she has come to love.
"I have actually never surfed on the East Coast before, but I've met great surfers from the region," Gabeira said. "I know the East Coast recently had a great week of surfing because of the two recent hurricane activities. I'm really excited to go and surf a part of the country I have never surfed before."
Gabeira will pair with Carissa Moore, who won a record 11 National Scholastic Surfing Association titles and is now part of the world tour, for the Carissa and Maya Project. Moore has been shredding swells in New Jersey while Gabeira's been doing the same in the New York since Sept. 10. The tour ends Sunday.
The goal of the event, sponsored by Red Bull, is to bring the West Coast surfing culture east. Gabeira wants to impress as well as educate. She is, after all, at 23, living proof that surfing can pay the bills.
"Surfers can go the competition route and try to make it to the world tour … and compete," she said. "They make a living from shooting amazing footage and doing photos for magazines and appearing in films. And, of course there is also the big-waves world. We chase storms to the most dangerous waves in the world and document them. "
Gabeira and Moore will be playing to an audience of young women such as Quincy Davis, the prototypical California girl -- with one exception. She's from New York.
Rather than being just another to fit into the SoCal mold, 15-year-old Davis is part of a new generation of East Coast surfers.
"I only go into the city, like, once a year," Davis said. "I just love to be on the beach in Montauk. It gets cold sometimes, but I love to surf here."
Against a backdrop of fall foliage and frigid waters, when millions around New York are turning their attention to the returns of Alex Rodriguez and Darrelle Revis, these surfers will be searching for big swells.
Year-round surfing might be out of the question in the Northeast, but surfing enthusiasts say a growing number of kids in New York and New Jersey prefer bikinis and boards to Broadway and Brooklyn.
The catch for East Coast surfers is this: Surfing is as much about culture as competition. The surf community thinks many East Coasters with potential are lured by more mainstream sports such as baseball, softball, football and lacrosse. But that could be changing.
Take Brittney Hickey, a star basketball player and skateboarder from South Jersey. At 16, she is one of the top surfers on the East Coast. She's taking part in the Carissa and Maya Project, and she hopes to ride the wave as long as she can.
That's just the kind of thing Gabeira wants to hear.
"I plan to share my own story with them," Gabeira said. "Hopefully, it will resonate enough to get people inspired to pursue whatever their own dreams may be."
Shane Mettlen is a freelance writer for Sports Media Exchange, a national freelance writing network.