Commentary
Canadian trades ballet for MMA
Originally Published:
September 26, 2010
By
Josh Stewart
| Special to Page 2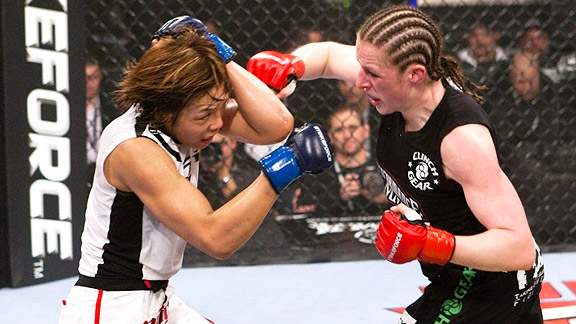 Esther Lin/STRIKEFORCE Sarah Kaufman tangles with Takayo Hashi in MMA. Kaufman gave up ballet for fighting.
Canadian Sarah Kaufman ponders the difference in dancing "The Nutcracker" and cracking skulls in a cage, and is quick to appreciate fighting's low-maintenance ways.
"You don't have to worry about fake eyelashes and putting your hair back in a bun," she laughs.
Most ballet dancers wouldn't trade dolling up for potentially getting strangled unconscious. But Kaufman admits that girls who fight are a bit nutty as she preps for her 135-pound Strikeforce title defense against Holland's Marloes Coenen on Oct. 9 in San Jose, Calif.
Kaufman has never been afraid to try something new. Kids rarely choose a career in cardiovascular surgery in grade school or don painful wooden pointe shoes for ballet class at only 8 years old.
"When I do something, I don't do it for fun, per se," Kaufman said. "I do it to get to the highest level I can."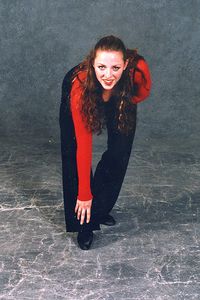 Courtesy of Sarah KaufmanSarah Kaufman, 17 years old in this photo, is now in MMA.
Kaufman started dancing at 2 and joined a Victoria, British Columbia, dance company at 8, playing an angel in "The Nutcracker" and a munchkin in "The Wizard of Oz." She still has a longing for the stage when she sees a Disney musical.
But at 17 she took Thai boxing lessons at a school started by MMA coach Adam Zugec, downstairs from her Victoria dance studio.
Kaufman's first black eye?
"I was rolling with a guy named Bruce who was this South African guy, like 6-4, huge guy," then-novice grappler Kaufman remembers. " … and as he was turning into me his elbow clipped the side of my eye."
"I got to the gym [the next day] and Adam was like, "What happened to your face? I looked in a mirror, and I don't know how I thought it wasn't noticeable because my eye was pretty much swollen shut. It, like, flew from above my eyebrow all the way down to below my nose on one side of my face. It was hilarious. It was the best thing ever."
Uh, why?
"It was just so different. It was like, 'I earned that,'" she said. "… I'm just a little crazy like that. I think black eyes are fun."
At 19, Kaufman quit dancing and left college, leaving a full scholarship in biology/pre-med at the University of Victoria behind. Although she has thought about becoming a paramedic, she couldn't be happier with her decisions.
She loves teaching kids at Zugec's school and doesn't mind getting home at 10 p.m. every night.
It's definitely a different life than what she expected. But if she knocks out Coenen, her past could make a cameo appearance.
"When I get excited and jump around, I still point my toes," Kaufman said. "Some habits are hard to break."
Josh Stewart is a freelance writer for Sports Media Exchange, a national freelance writing network.