Commentary
Logan Morrison trades in cards for bat
Updated:
September 27, 2010, 4:11 PM ET
By
Chris Olds
| Special to Page 2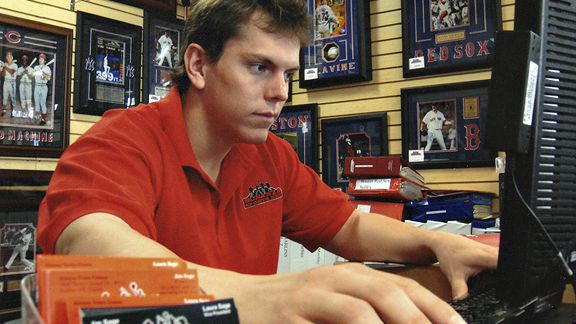 Courtesy of Bonanza Sports Logan Morrison was a "star employee" at Bonanza Sports in Jupiter, Fla.
If you had met Florida Marlins outfielder Logan Morrison a year ago, he probably would have handed you his business card.
The rookie is hitting close to .300 these days for the third-place Marlins, but this past offseason he spent his downtime working as a salesman at Bonanza Sports, a sports card and memorabilia shop in Jupiter, Fla., owned by Jim Sage.
So while Morrison has traded that business card for his baseball card, you can still find him pretty easily -- at the ballpark, on Twitter (LoMoMarlins), maybe on a few fantasy teams and even on a regularly appearing "Lunch With LoMo" regional television segment. His life has changed dramatically, but he doesn't feel a world away from where he was last winter.
[+] Enlarge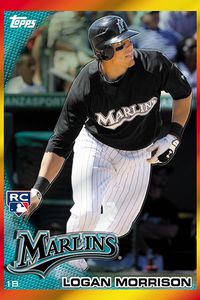 Topps Morrison, a rookie, already has appeared on more than 90 cards.
"It doesn't feel like a long ways away from the card shop," Morrison said in a recent phone call from Florida. "I mean, that's all different, but I still talk to Jim and have great conversations. And he'll come to games, too."
Sage called Morrison his star employee.
"Logan is very outgoing, humble and friendly with all the customers," Sage said. "It was always awesome when people would walk into the store and recognize him, he would always have a huge grin on his face."
At times, though, Morrison worked in anonymity, which helped him see the other side of the business of Major League Baseball -- the merchandising that generates millions of dollars a year.
"It was interesting to see people from the customer browsing to the intense fan looking for a particular card," Morrison said. "A lot of people didn't know who I was, so that made it fun to watch."
At other times, Morrison's autographed photo -- one of many displayed and for sale -- generated some laughs at the store.
"He had fun with people when they would ask him who that is, or tell him that the guy in the picture looks a lot like him," Sage said.
Earlier this summer, Morrison was named one of Topps' Red Hot Rookies. It's a program in which collectors find a particular card and a rookie is later announced as the card its recipients will receive. Ironically, in the background of Morrison's card photo is an advertisement for BonanzaSports.net. Believe it or not, that cool bit of cardboard trivia didn't surprise Morrison.
"He always advertises at Jupiter Stadium," Morrison said of the Marlins' spring training home.
Morrison, who grew up in Missouri, was a George Brett fan and a bit of a collector himself, but he hasn't been busy trying to track down the more than 90 baseball cards that he already appears on -- not even a Bowman Gold Refractor, which sells for as much as $120.
"I didn't know I had that many cards," Morrison said. "I have some from what people have given me, but nothing like the Gold Refractors."
How does a baseball player end up at a hobby shop, anyway?
"We met when he was with the Jupiter Hammerheads in Single-A and I did an autograph signing with him in our store," Sage said. "We talked about his looking for work during the offseason. … The following offseason, Logan got in contact with me and asked if I still had an opening for him, and he became my star employee."
Chris Olds is the editor of Beckett Baseball magazine. Check out Beckett.com -- and be sure to get the latest news on sports cards and memorabilia at The Beckett blog. You can also follow him on Twitter.