Commentary
Page 2 hits abusers where it hurts
Updated:
September 29, 2010, 6:22 PM ET
By
Patrick Hruby
| Page 2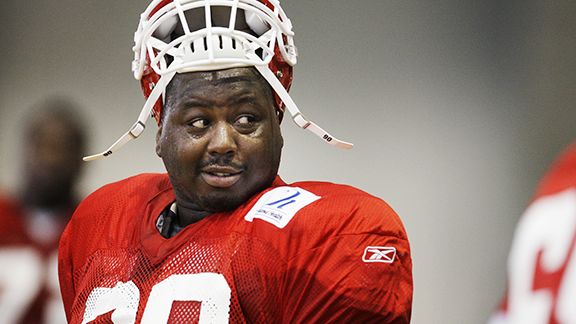 AP Photo/Orlin WagnerShaun Smith on being accused of grabbing another player: "I don't recall doing anything like that."
No. No. A thousand times no. When Kansas City Chiefs defensive end Shaun Smith was accused of grabbing an opposing player's man parts for the second straight week, he appeared to do more than simply conduct himself in an unsportsmanlike manner, violating the First Commandment of Man Law.
Namely, do not abuse another dude's package.
Never.
Never ever.
Package abuse is a crime against humanity. Against the natural order. Against all that is good and right, noble and just. It hurts to suffer; it hurts to watch. (Except tee-ball-to-dad's-groin home videos. Those are always funny). It ought to be prosecuted in The Hague, or at least be subject to a Simon Cowell tongue-lashing.
Instead, we treat it lightly. A fine here, a suspension there. Kid gloves. The result? A silent social epidemic. The kids call it "Roshambo." They've even made a game out of it. A game! Where did it all go wrong? No matter. It's time to take our country back. And Page 2 is here to help.
Because you can't restore innocence without shaming and purging the guilty -- that was McCarthyism's All-American take-home, right? -- we proudly present our Package Abuse Hall of Shame:
Reggie Evans
Crime: Then-Denver Nuggets forward reached between the legs of Los Angeles Clippers center Chris Kaman's legs from behind and "pulled hard."
Punishment: Assessed a level-two flagrant foul and fined $10,000 ... but not suspended.
Page 2 Suggested Punishment: Immediate, permanent ban from North American professional basketball; annual $10,000 wage garnishment for next 25 years.
Herb Pope
Crime: Seton Hall forward punched Texas Tech forward Darko Cohadarevic in the groin -- twice! -- during 2010 NIT opening-round game.
Punishment: Ejected from game. In a semi-related note, combative, controversial former Seton Hall coach Bobby Gonzalez was fired the next day.
Page 2 Suggested Punishment: Ejection from NCAA Division I basketball; force Pope to play exclusively for Gonzalez.
[+] Enlarge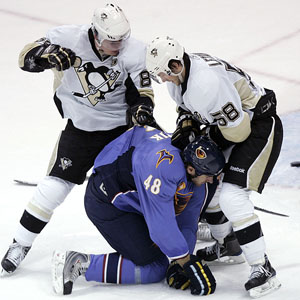 AP Photo/John BazemoreBoris Valabik recoils as Sidney Crosby (left) adds injury to an already harsher injury.
Sidney Crosby
Crime: Pittsburgh Penguins poster boy punched Atlanta Thrashers defenseman Boris Valabik in the five hole. From behind. Oh, and then sucker-punched him in the back of the head for good measure. All while one of his teammates was engaging Valabik from the front. Oy.
Punishment: Two minutes for roughing. Seriously. Two whole minutes.
Page 2 Suggested Punishment: UFC 120: Crosby vs. the ghost of Bob Probert.
Wayne Rooney
Crime: England striker stomped the nether regions of Portugal's Ricardo Carvalho during a 2006 World Cup quarterfinal match.
Punishment: Sent off with a red card; England lost the match in a shootout.
Page 2 Suggested Punishment: Allow Rooney to keep playing, because suiting up for the oft-overrated, forever-cursed Three Lions is punishment enough.
Chris Paul
Crime: While playing at Wake Forest , threw a closed-fist punch below N.C. State player Julius Hodge's half-court line.
Punishment: Suspended for one game.
Page 2 Suggested Punishment: Require Paul to spend duration of his suspended game suspending himself in a split-leg position above a pommel horse. Allow gravity to work its magic.
Wangson Tan
Crime: Chinese soccer player kicked Belgium's Sebastian Pocognoli right in the bizness; Pocognoli was taken off the field bleeding from his lower body.
Punishment: Red card; a Chinese newspaper dubbed the kick a "barbaric act" and demanded that the Chinese soccer system be "revamped to stamp out bureaucracy, corruption and brutality."
Page 2 Suggested Punishment: Revamp Chinese soccer system without using the term "stamp out;" explain to Tan the ironic responsibility of having a name like "Wangson."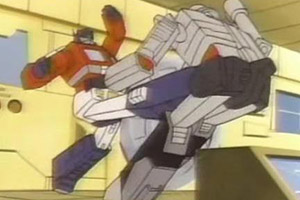 HasbroMegatron sided with Megan Fox in the great Fox-Michael Bay feud of 2010.
Optimus Prime
Crime: Kicking Megatron in the all spark.
Punishment: Appeared in two Michael Bay movies.
Page 2 Suggested Punishment: Appear in third Michael Bay movie.
Royal Ivey
Crime: In 2007, then Milwaukee Bucks guard hit then-Chicago Bulls center Aaron Gray in foul territory, probably in retaliation for a hard screen.
Punishment: Suspended three games -- which is three more than Reggie Evans was!
Page 2 Suggested Punishment: Sign Ivey to New Orleans Hornets and make him guard Chris Paul in practice.
Daniel Briere
Crime: Then-Buffalo Sabers center speared Washington Capitals forward Alexander Ovechkin in what television announcers dubbed "the fig leaves" in retaliation for an earlier blindside hit.
Punishment: Zippy.
Page 2 Suggested Punishment: Five minutes in the penalty box ... where Briere is made to hold a Shake Weight between his legs.
Tony Skinn
Crime: Former George Mason guard punched Hofstra's Loren Stokes in the twilight zone during the waning moments of a 2006 Colonial Athletic Association tournament game.
Punishment: Suspended for one game. Coincidentally, the school later suspended two players for one game apiece after they stole pillows from hotels to use on flights home from road games. Because the two offenses are equally abhorrent.
Page 2 Suggested Punishment: Lifetime tickets -- attendance required -- to the CAA tournament.
Patrick Vieira
Crime: Manchester City midfielder "drove his studs" into the groin of Stoke City midfielder Glenn Whelan during a 2010 match.
Punishment: Nothing during the game, but later charged with violent conduct and handed a three-match ban, the 16th red-card ban of his career. Said Whelan: "Thank God I'm not more well-endowed; maybe if I was it would have hurt more."
Page 2 Suggested Punishment: Sorry, we're too busy laughing at Whelan's remark to think of something appropriate.
Roper from "Enter the Dragon"
Crime: Kills martial arts badass Bolo Yeung via neurogenic shock by administering a no-cough, jump kick physical exam.
Punishment: None. Unlike fellow kung fu-fighter/ladies' man Williams -- who totally deserved better for his delivery of the immortal line "[expletive] Mr. Han Man!" alone -- Roper makes it off Han's island alive.
Page 2 Suggested Punishment: Line up for five snaps across from Shaun Smith.