Commentary
With Ryder Cup up, readers' golf jokes
Updated:
September 30, 2010, 12:19 PM ET
By
Jerry Greene
| Special to Page 2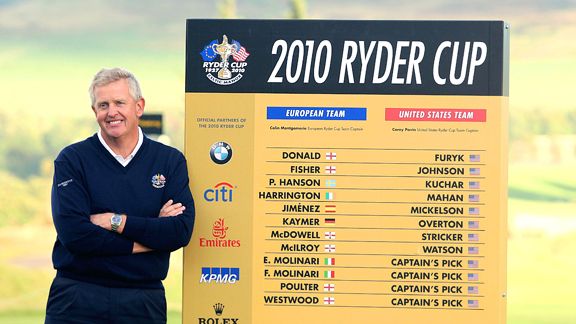 AP PhotoEuropean Ryder Cup Capt. Colin Montgomerie isn't in the top 10 jokes, but some other golfers are.
Hard to say how many of you will get up early to watch the Ryder Cup when it begins on ESPN at 2:30 a.m. ET Friday or watch it on tape delay later, plus tape delay Saturday and live again Sunday. But we do know one thing -- you sure know a lot of golf jokes.
Here's one apparently everyone knows:
Frank and Carl are on the 15th green when a funeral procession slowly passes by just outside the fence surrounding the golf course. Frank, who was about to putt, stops and stands at attention with his right hand on his chest until the procession has passed by.
"I'm surprised," Carl said. "I never knew you were that sensitive."
"It's the least I can do," answered Frank. "After all, I was married to her for 35 years."
My friends, 31 of you submitted that one, so we were forced to disqualify it simply because it must be the most repeated golf joke on the planet.
We also had to disqualify other jokes because they went a little too far in one direction or another. Maybe the time will come when we can produce the cable version of these top 10 blogs but right now we are more network in nature.
Hopefully some of chosen 10 will be new to you and you can pass them on to your friends. That's the way jokes work -- or not.
Top 10 Short Golf Jokes in Honor of Ryder Cup Weekend:
10. Joe takes his boss, Phil, to play nine holes during a long lunch break. On the fifth hole they are forced to stop because two women ahead of them are playing slowly. Joe runs ahead to ask the women to let them play through but, before he reaches them, he stops and runs back.
"One of those women is my wife and the other is my mistress," he tells Phil, "so I can't let them see me!"
So Phil decides to go up and talk to them. But halfway to them, he stops, then turns around and runs back. "Why did you come back?" Joe asks.
"Small world," Phil said, "and you're fired!" -- submitted by Ben M., Peoria, Ill.
9. Bob is giving his girlfriend, Janice, her first golf lesson. He says, "The object of the game is to use these clubs to hit this ball into the holes that are marked by a flag." Janice, trying to understand the game, says, "OK, but who is trying to stop me?" -- submitted by John H., Honolulu
8. Charles Barkley is given a magic lamp and, not surprisingly, he wishes for a great golf swing. The genie says, "Hey, I saw the TV show. There's no way I'll grant that wish because it would just be too hard for even me. Make another wish." So Barkley thinks and then asks the genie to make him understand how women think. The genie stares at Barkley and then says, "So which swing do you want -- Ben Hogan's or Sam Snead's?" -- submitted by Casey M., Columbia, S.C.
7. A man is playing golf when he hears a voice say "hit the 7-iron." He looks around, sees no one, but hears the voice again: "Hit the 7-iron." He takes out his 7-iron and hits a great shot right next to the hole. He hears that voice throughout his round, shooting his best score. He then hears the voice say, "Take all your money to Vegas." He figures the voice has been right before, so he does. "Bet it all on Black" he hears when he gets to the roulette table, and proceeds to do just that. As the dealer calls out, "RED 12", the voice says, "Oops!" -- submitted by Jeff P., Warren, Maine
6. The cross country ski team in my high school made T-shirts that read: "Finally, a good use for a golf course" -- submitted by Jerrod N., Minneapolis
5. What is the only club that's safe to use when lightning is striking on the course? The 1-iron, because not even God can hit it. -- submitted by Patrick B., Dallas, who freely admits he is borrowing something Lee Trevino said shortly after he was actually struck by lightning in the 1975 Western Open.
4. Last week I got a new set of clubs for my wife. Not a bad trade, eh? -- submitted by Rob C., Portland, Maine
3. Three young men are playing a round of golf with their elderly boss, a billionaire. The billionaire had not done better than double-bogey all day but on the 18th green he had a 12-foot putt for birdie. "If one of you can help me make this putt, it will be worth a million dollars to me," he says. The first man lined up the putt and said, "It will break sharply to the right so aim 6 inches to the left of the cup." Then the second young man reads the putt and said, "He's nuts. There is no break at all." Then the third young man looked at the putt and said, "Uh, it's a gimme. Pick it up and get out your check book." -- submitted by Bud P., Warner Robins, Ga.
2. An amateur who had been playing horribly all day hits a ball into the water off the 17th tee. Feeling embarrassed, he says to his hired caddy, "I should go jump in that lake and drown myself." The caddie replies, "I don't think you can keep your head down that long." -- submitted by Juan C., Davie, Fla.
1. A man and his wife walk into the dentist's office. The man says, "Doc, I got a van full of buddies outside and we got a tee time in 30 minutes. I don't have time for the anesthesia. Just pull the tooth out and I'll be on my way. The dentist says, "Are you sure? It will be extremely painful." The man replies, "Yeah, yeah. I just don't have the time." The dentist sighs and says, "Then let's do this." So the man says, "OK, honey, hop up in the chair." -- submitted by Ryan Z., Charleston, S.C.
There they are. Hope you found at least a few that you will repeat. Again, that's how jokes work -- go forth and multiply, kind of like your golf score.
Jerry Greene is a retired columnist for the Orlando Sentinel. He can be reached at osogreene@aol.com