Commentary
Spartan Race: 5K course with obstacles
Updated:
October 5, 2010, 7:20 PM ET
By
Jim McCurdy
| Special to Page 2
NAVASOTA, Texas -- Quenton Champ had a confession.
"I couldn't navigate that Spider-Man thing," the 36-year-old Houston man said.
And the incline ramp, slicked up with dishwashing soap, Crisco and vegetable oil?
"I almost pulled a groin," he said.
Welcome to the Spartan Race -- a 5K peppered with 10-15 crazy obstacles staggered on challenging terrain.
[+] Enlarge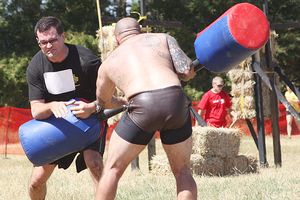 Jim McCurdyAs if competitors in the Spartan Race didn't have enough to deal with, Giant Gladiator Matt Wray attacked at the finish line.
Created by Selica Sevigny and Richard Lee in January, Spartan Race passed through Texas on Sunday. On a course set up against a woodsy landscape with Australian-like blue water and aesthetic red-rock cliffs mimicking the Grand Canyon, the course offered challenging tranquility.
The stop was the sixth of seven on the inaugural tour, which began May 16 in Burlington, Vt., and concludes Dec. 12 in Los Angeles. The top three finishers at each event earn the right to compete in the Spartan Death Race in July in Vermont.
Next year, Spartan Race's tour will include a half-marathon, pyramid-scheme Super Spartan and 48-hour obstacle event. They have 25 events scheduled over the next 12 months.
Joe Desena, the financial backer, designed the race with the element of surprise in mind.
"The concept of our idea is facing your fears," Lee said. "We try to encourage people to get active and do things they would never really dream of doing."
Like leaping over fire, negotiating barbed-wire crawls, scaling staggered block walls, climbing unforgiving cliffs, squeezing under tight-quarter log rolls in sand, hurdling obstacles surrounded by mud or overcoming a series of imposing hay rolls.
Oh yeah, and taking a beating from the Giant Gladiators at the finish line.
"Anybody that was running fast, I hit 'em as hard as I could," said Gladiator Matt Wray, 34, of League City, Texas. "Our goal was to get 'em on the ground."
Of course, getting to the finish line was its own challenge. Take Joy Rosario, 36, of Katy, Texas, who was decorated with the most extreme injury award after rolling her ankle while lunging at a jump and hitting mud a half-mile from the finish.
"I heard it pop, and I went down," said Rosario, who finished the course but had to substitute 20 push-ups for the walls because of the ankle. "It was rugged. I've run 5Ks before, but nothing to this degree to push my endurance, my strength and just the challenge."
For Dana Mecke, a 23-year-old senior track athlete at the University of Texas-San Antonio, the course offered little resistance. Mecke won the 560-competitor race in 23 minutes, 40 seconds, and had no battle wounds afterward.
"It was definitely a challenging race to overcome the fear of the unknown," Mecke said. "For me, it was a lot more fun than any race I've ever competed in. It feels like you're going through it so much faster. Mentally, with all the obstacles, it just gives you something to look forward to."
That's what Lee and Sevigny envisioned. Since Spartan Race's inception, they've learned participants have gone so far as to replicate courses in their backyard and jump out of airplanes.
"I think the big thing is it's got a kind of cult following," Lee said.
Said Sevigny: "For a lot of people, it's like a huge adrenaline rush. It's an event that's really inspiring change. That's one thing we never expected."
Champ, who, like many, competed in a costume -- his a long, red cape -- may have put it best.
"It wasn't just a run," he said. "It was an adventure."