Commentary
'Catfish' highlights All-Animal Team
Updated:
October 9, 2010, 9:58 AM ET
By
Rob Daniels
| Special to Page 2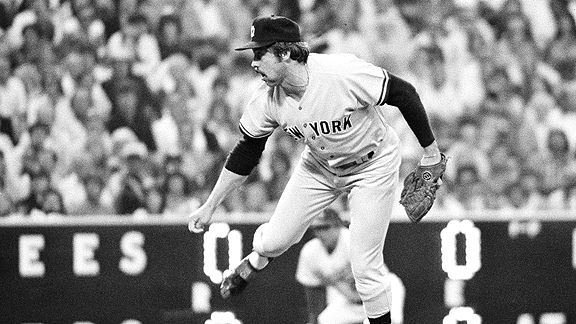 AP PhotoJim "Catfish" Hunter, the baseball Hall of Famer, made our All-Animal Team.
Give in to your instincts and take in the adventure of the All-Animal Team. Passport, safari and fake Australian accent not required.
Flipper Anderson: Los Angeles Rams wide receiver Willie Lee Anderson was tagged with the nickname Flipper as a toddler because a cousin thought his crying sounded like the TV dolphin. On the evening of Nov. 26, 1989, however, the New Orleans Saints were left in tears when the Smattering Ram -- he had caught an unimpressive three passes the previous week -- went off. He hauled in 336 yards worth of Jim Everett's passes for an NFL record that still stands tall. In fact, nobody has come within 50 yards of Anderson in a decade.
J.J. Birden: LaJourdain J. Birden of Portland, Ore., sounds like a professor of paleontology or ornithology at Stanford. Although that's not Birden's calling, his story is pretty compelling. Failing to hit even 150 on the scales as a high school senior, he had no college football offers and enrolled at the University of Oregon. Birden didn't become a Duck until his sophomore year, and even then, his position was tenuous. "Seventh string," as he told Page 2 recently. He zipped up the depth chart with the sort of athleticism that would earn him a spot at the 1988 U.S. Olympic trials in the long jump, and after a college career with one touchdown, he was drafted in the eighth round by the Cleveland Browns. He then tore up his knee in training camp and didn't make it in the NFL until 1990. He then crafted a five-year career with 244 catches.
Goose Goslin: Seldom has a Hall of Famer gotten his nickname for looking silly on the field, but that's the legend of Leon Allen Goslin, who frantically chased fly balls with his arms flapping in the breeze. Goslin spun another tale when he threw the ball, however. He led the American League in outfield assists three times and hit .316 over an 18-year career. He played for five teams between 1921-38.
Catfish Hunter: Jimmy. That's all he was to the fine people of Hertford, N.C., when the Kansas City Athletics signed him in 1964. And that's how he presumed he'd always be known if he made it big as a right-handed pitcher. But upon getting him into the Athletics' minor league system, promotionally obsessed owner Charles O. Finley told Hunter he had to have a nickname and that "Catfish" sounded appropriate for a young man from the banks of the Perquimans River. We wonder what Finley would have suggested if he had known the area was also home to a CIA counter-terrorism training facility. At any rate, ol' Catfish is a Hall of Famer and one of only four pitchers since World War II with five straight 20-win seasons (1971-75).
Chicken Hawks: Nelson Louis Hawks offers 2-for-1 value to this list. Sadly, he couldn't fly; he succeeded in only three of his 10 attempts to steal a base in an MLB career that included parts of two seasons (1921 and 1925).
Gorilla Monsoon: Robert James Marella was a college wrestler from Rochester, N.Y., who transformed into a 6-foot-6, 440-pound stage (mat) presence known as Gorilla Monsoon in the pro ranks. According to the official declarations of the time, which we know were never fraudulent, he was a tyrannical savage who traced his roots to Manchuria. He's best known for an allegedly impromptu bout with Muhammad Ali, who walked into Monsoon's ring one night in 1976 and promptly got flipped on his back.
Kristy Pigeon: One of the "Original Nine" members of the fledgling Women's Tennis Association Tour in 1970, Pigeon was a former junior champion at Wimbledon who had been inspired by her days at the University of California. Disturbed at the gender gap in prize money at majors, the Nine, under the direction of Billie Jean King, effectively created women's professional tennis. Pigeon's playing days were short and uneventful, but her perch in history is secure.
Hippo Vaughn: Few players epitomize the tough luck of the Chicago Cubs better than James Leslie Vaughn, who pitched three complete games, allowing only three earned runs, but won only one in the 1918 World Series. Vaughn dropped a 1-0 decision in Game 1 to a 23-year-old lefty of some promise named Babe Ruth, whom he struck out twice. He lost Game 3 by a 2-1 count before finally earning some redemption with a 3-0 win in Game 5. It didn't last. The Cubs lost to the Boston Red Sox in six games. As for the moniker, a 6-foot-4, 215-pounder wouldn't elicit much talk today. Back then, he was among the larger players in the game.
Pooh Bear Williams: Clarence Williams belied the nickname. At 6-1 and 265, he served as Warrick Dunn's bodyguard in the Florida State backfield and earned a cup of coffee -- presumably topped with honey -- as a Buffalo Bill in 1998.
Rob Daniels is a freelance writer for Sports Media Exchange, a national freelance writing network.