Commentary
'Blind Side' mom adds yet another role
Having your family's life documented in a major motion picture and having your character portrayed by Sandra Bullock, resulting in an Oscar win for that role, might mean you'd earned the right to slow down. Enjoy life. Maybe go on vacation to a tropical island.
But for Leigh Anne Tuohy, life has become even busier. Since the 2009 release of "The Blind Side" -- one of the year's highest-grossing films, based on Michael Lewis' book that told the true story of the Tuohy family's adopting their oldest son, Michael Oher, now an offensive tackle with the Baltimore Ravens -- Tuohy's schedule hasn't stopped. The mother of three spoke to Page 2 while she went for an afternoon walk in Memphis. It was a rare off day for Tuohy as she prepared to leave the next morning for a speaking engagement in Ohio.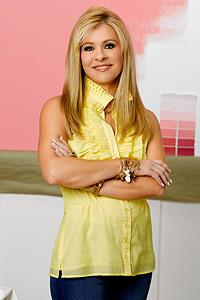 ABC/Bob D'amicoLeigh Anne Tuohy, immortalized in "The Blind Side," is joining the cast of "Extreme Makeover: Home Edition."
If it's Sunday, you're likely to find the feisty former cheerleader attending a Ravens game ("At least one member of the family is always at Michael's games," Tuohy says). If it's a weekday, she's probably on-site as one of the new members of ABC's "Extreme Makeover: Home Edition" team. Given her background as an interior designer, the show was a natural fit for Tuohy, as she and the crew work alongside hundreds of volunteers each week to rebuild homes and schools.
"It's an amazing show," Tuohy said. "I wish we had more shows like this."
She says that following the movie's success, as well as her family's authoring of the July 2010 book "In A Heartbeat: Sharing the Power of Cheerful Giving," her family turned down numerous reality-TV offers. But she says this show resonates with what they're trying to achieve. She also tours the country through speaking engagements, telling others how they, too, can make a difference.
"As long as there's people that want to listen, I'm going to talk about it," Tuohy says. "Adoption is up. Whether 'The Blind Side' contributed to that or not, we can't know for sure, but it's like Sandra [Bullock] and I said the other day, we're going to take full credit for it. It's crazy when you want to help a kid and you can't help them."
Leigh Anne and her husband, Sean, who is entering his eighth season as a commentator for the Memphis Grizzlies, did just that when they adopted their now-24-year-old son, Michael, when he was in high school. They already had two children: Collins, now 23, who is a frequent public speaker alongside her mother, and S.J., a junior in high school and standout baseball and basketball player. Since making the movie, Tuohy and Bullock, who adopted an African-American son last spring, have remained close friends.
"It's crazy the legs that this story has," Tuohy says. "We're really humble that we get to go around and share it, with everyone from people who can't afford to pay their gas bill to CEOs of major corporations."
Sundays, however, are still sacred, and Tuohy loves talking about the accomplishments of her oldest son.
"He should've been rookie of the year," Tuohy says of Oher's first year with the Ravens last season. "That's a crying shame. I know it's coming from his momma but still ... he played left tackle, right tackle, whatever they asked of him, and he didn't miss a game."
Tuohy praises the entire Ravens organization, who drafted Oher No. 23 in the first round of the 2009 draft, and how they handled the sudden, unexpected rush of celebrity he garnered as his rookie year coincided with the movie's release. "He's a lucky young man to be where he is," Tuohy says.
She also isn't shy about offering advice to his teammates. "Joe [Flacco] and I have a battle back and forth," Tuohy says. "I texted him when the game was over on Sunday and I said, 'Apparently my coaching of you is working.' I don't want to take Cam Cameron's spot, I just want to make sure Joe knows what he's doing. He's very coachable."
Perhaps her next gig will be as the NFL's first female assistant coach? Judging by the pace and variety of her current résumé, as well as her sports knowledge, we wouldn't put it past her.
Anna Katherine Clemmons is a reporter for ESPN The Magazine and ESPN.com.