Commentary
Rays look for wins, new stadium
Updated:
October 10, 2010, 3:22 PM ET
By
Jerry Greene
| Special to Page 2
We have an urgent message for Bill Foster, the mayor of St. Petersburg. Keep your phone lines open, Mayor, because the Tampa Bay Rays may be willing to give you a call very soon.
According to what the mayor said to the St. Petersburg Times, the Rays were not kidding when they said they didn't want to talk about options for a new ballpark site until after they were eliminated from the major league playoffs. (Actually, they indicated they would wait until after the World Series, but that may be academic in the near future as they trailed the Texas Rangers 2-1 in the best-of-five opening series going into Sunday.)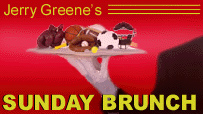 "When we agreed we wouldn't talk until after the season," Foster said, "I didn't know that meant we wouldn't exchange pleasantries as well. But I guess they meant no talking. Period."
Hang tight, Mayor. You might get a call later Sunday.
Rays owner Stuart Sternberg was still talking about the team's disappointing attendance: "It's bad down here, but people are still going to the movies, eight to 12 bucks a pop to see 'Avatar.' For $40, you can bring a family of four to the ballpark."
That's true, Mr. Sternberg, but in "Avatar," the blue home team always wins the big one.
And before we leave the Rays, how about a shoutout for the Sports Illustrated Curse? Rays pitcher David Price was on the cover of the MLB playoff preview issue with the headline, "Octoberfest: David Price -- Ready For Some Fun."
Game 1: Texas 5, Tampa Bay 1 with all five Rangers runs coming off of Price. How much fun was that?
And now a few more tidbits before we unveil the main courses in this Sunday Brunch:
• If you would like to have a memento ticket to the no-hitter by Phillies pitcher Roy Halladay against the Cincinnati Reds, immediately contact the Florida Marlins.
• Anna Kournikova appeared on "The Biggest Loser"? Sure, she didn't win too many singles matches, but isn't that a little harsh?
• On Tuesday, the University of Mississippi ends voting for a mascot with the finalists being a Land Shark, a Black Bear and a guy known as Hotty Toddy. We really want to see Hotty Toddy touring the SEC.
• Memo to Danica Patrick: If you missed the opening episode of "South Park," it's probably just as well.
• The Buffalo Bills say they may change their offensive play calls because former Bills QB Trent Edwards is now with Jacksonville, which plays in Buffalo. Uh, what makes you think Trent ever knew your play calls?
• Did you know the PGA Tour's season is not over? Really. Yes, I know they crowned their champion but … oh, never mind.
• The Chicago Bears say QB Jay Cutler won't play because he suffered a concussion. How can they tell?
• Finally, at Florida's home game against LSU, Nitto Tire gave away 17,000 car air fresheners with cologne fragrances designed "to capture the spirit and the signature scent of the University of Florida." Exactly what odor was that?
Can you smell what the Brunch is cooking? Read on for our main courses of the day:
• If the Gators were stinky, how about baseball's Minnesota Twins? After being shut out 3-0 by the New York Yankees, some Twins said they hoped to make the playoffs again. Jim Souhan of the Minneapolis Star-Tribune asks if that is a promise or a threat.
• Meanwhile, back in collegiate football, Alabama, previously No. 1 in the land, got knocked off convincingly by South Carolina. Kevin Scarbinsky of the Birmingham News says it is not the end of the world for Tide followers, but they can see it from here.
• Earlier in the week, South Carolina coach Steve Spurrier had urged his team to "give fate a chance" against Alabama. And after the victory, Ron Morris of The State tells us that Spurrier accepted a game ball meant for "fate."
• Down in Miami, Greg Cote of the Herald watched FSU wipe out the Hurricanes and wonders who has failed the most -- the Canes or the reeling Dolphins?
• Let's close with Chris Erskine of the Los Angeles Times describing one of those moments you don't ever want to experience -- your car has either been towed or stolen. Either way -- it's gone. And you are -- on foot. Shudder.
• Jerry Greene doesn't like walking but he loves predicting. You can read his NFL predictions column and enter his entirely free picking contest here.
Now go forth and prosper.