Commentary
Rony Seikaly: Why fuss about Big 3?
Updated:
October 11, 2010, 4:46 PM ET
By
Rony Seikaly
| Special to Page 2
MIAMI -- The city of Miami always has been special to me. The Heat, too. I was the team's first draft pick in 1988. I've watched it assemble an unbelievable array of talent. I've seen it from its infancy. I get really excited as an ex-player and a fan of the team.
[+] Enlarge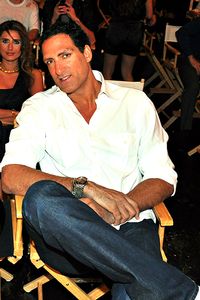 Manny Hernandez/PictureGroupRony Seikaly is now a world-class deejay and a real estate investor.
I don't understand why NBA fans got upset when LeBron James, Dwyane Wade and Chris Bosh decided to play on the same team. How about Kevin Garnett, Ray Allen and Paul Pierce? They got together in Boston. How about the old days of Larry Bird, Kevin McHale and Robert Parish?
What about the old Lakers teams of Magic Johnson, Kareem Abdul-Jabbar and James Worthy? And even Michael Cooper?
Why all of a sudden is there a bull's-eye on LeBron James?
From my perspective, the media loves to build somebody up, knock him down and build him up again. LeBron was a hero, so it's time to knock him down. Soon, it'll be time to build him back up.
When it comes to the city of Miami, what is there not to love? Look at the lifestyle, the weather, the people. It's a magnificent city to live in. It's vibrant. It has character. It has personality.
I can't tell you anything I don't love about the city. Once I planted my seed, I never considered leaving, and nobody was going to get me out of there.
So, after home games, the Big Three always will have something to do. When it comes to nightlife, there is something happening all the time. But here's my advice: Don't burn yourself out. Just go once in a while. Have fun and go home.
Remember, it's just like New York. But in Miami, people wear skimpier clothing.
Rony Seikaly was drafted by the Miami Heat in 1988 and played 11 years in the NBA. He's now a real estate investor, records his own music and is a DJ. Check out his work here. He will write occasional columns for ESPN.com.