Commentary
Miami is LeBron James' town now
Originally Published:
October 11, 2010
By
Jemele Hill
| ESPN.com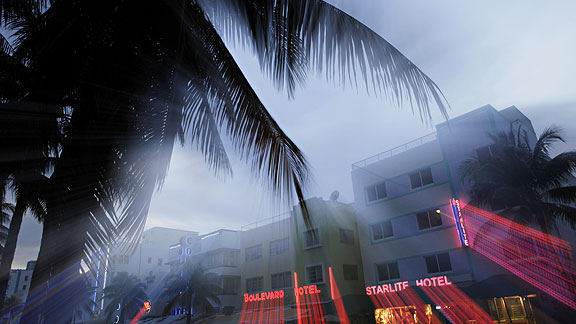 AP Photo/Lynne SladkyMiami has never lacked star power, but LeBron James has brought a new enthusiasm to the city.
On a Thursday night in Miami, LeBron James ate dinner with buddy Chris Paul at Prime Hotel. The next night, James threw a birthday party for his longtime girlfriend, Savannah Brinson, at an even more posh South Beach spot, Red, the Steakhouse.
Recently, there have been reports that James has a contract in place to purchase a $7.65 million, three-story villa in trendy Coconut Grove.
No need to worry about how LeBron is fitting into the Miami scene.
James has lived in a fishbowl since he appeared on the cover of Sports Illustrated in high school, but Miami is an altogether different pond -- and the King is creating A-list flavor wherever he goes.
Somehow, LeBron has accomplished something in Miami that was previously unthinkable: He has made an already hot city even hotter.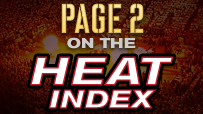 Be sure to check out Page 2's spin on the happenings of the Miami Heat:
• Q&A: Mario Chalmers admires Jordan
• DJ Khaled not worried about his Heat
• Q&A: Carlos Arroyo on being unique
• Q&A: Joel Anthony loves his BlackBerry
• Q&A: Juwan Howard idolized Dr. J
• 'Don't Hate Miami' defends city's honor
• Seikaly: Chemistry hurting Heat
• LeBron's stylist talks NBA style, tips
• Q&A: House wants Obama's number
• 'Grandmothers' standing by LeBron
• LeBron Poetry Contest's famous losers
• LeBron Poetry Contest claims winner
• Is this man a LeBron lookalike?
• Collectors eye first LBJ card with Heat
• Prose flows in LeBron Poetry Contest
• Hill: Miami is now LeBron's town
• Miami mayor: Heat to silence critics
• Seikaly: Why all the fuss?
Sure, Miami is accustomed to housing and hosting celebrities, from the Kardashians to the cast of MTV's "Jersey Shore."
But not even when Pope John Paul II visited Miami in 1987 did he create the kind of buzz and atmosphere James has since deciding to join Chris Bosh and Dwyane Wade in an unprecedented, possibly historic NBA collaboration.
"The pulse of the city is just vibrating," said Gil Green, a Miami-born music video director who has worked with Drake, Kanye West, 50 Cent and Akon, among others, and recently was commissioned by the Miami Heat to direct the Heat player introductions.
"[The Miami Heat] are the talk of the town."
When Shaquille O' Neal took his talents to South Beach in 2004, he captivated South Florida with his charm and winning pedigree, which culminated in the franchise's only NBA championship in 2006.
Miami, however, is a fickle sports town, so when Shaq bolted for the Suns and the Heat declined, all of a sudden, Heat fans weren't so easy to find.
Although James doesn't possess the same charisma as Shaq, Shaq's presence in South Beach was a murmur compared with the tremors James has created.
Shaq was 32 when he came to Miami, but 25-year-old James has barely scratched the surface of his Hall of Fame-caliber career. Theoretically, James, Wade and Bosh could construct a dynasty the likes of which South Floridians haven't seen since the heyday of the Miami Hurricanes.
That's a tantalizing enough possibility to have everyone rushing to capitalize on or be connected to LeBron, who -- brace yourself -- could eventually be bigger in South Florida than both Dan Marino and Don Shula.
LeBron is being hailed as a perpetual Red Bull for South Florida's economy. At this point, it's difficult to decipher who wants him more -- realtors or groupies.
Naturally, Heat season tickets are long gone. But whereas last year the average cost for season tickets was $3,300, that expense has more than doubled, and ticket brokers are predicting that if Miami starts the regular season with an impressive winning streak, courtside seats could go for $10,000 each.
At OneBurger in Coral Gables, you can purchase a "Bron burger" for $12.95. The Gansevoort Hotel in Miami Beach is offering guests the $2,500-a-night "Heat Suite," which, for some high roller, will include a rented Ferrari F430, access to a private cabana, some of James' favorite snacks and an iPod with some of his favorite music.
I hear the King is a big Rick Ross fan.
Beyond the obvious financial windfall for local businesses and the Heat, there's an underscored cultural element to having LeBron in Miami.
Miami is about to collect celebrity followers the way the Lakers have for years. The fact that the Heat are hated in some sections of the country only adds to their edge. Actor and comedian Jamie Kennedy, a Lakers fan, joked to a reporter: "Peyton Manning's gonna come down here and play, too!"
"Every game is going to be like the NBA All-Star Game," Green said. "I got quite a few calls from artists who just want be involved some way. They want to get their music in and just be a part of this movement."
Movement?
Considering that LeBron is already the self-proclaimed king, the idea of him creating a movement probably isn't that big of a stretch.
Even NBA commissioner David Stern -- who must have been ecstatic that the league dominated the summer in terms of interest and intrigue -- couldn't help giddily acknowledging that this will be one of the most remarkable seasons ever because of the revamped Heat.
"We're going to have, really, our most successful season," Stern said before the Lakers' exhibition game with Euroleague champion Regal FC Barcelona.
In the summer, Miami-Dade County officially renamed itself "Miami-Wade" county for the first week of free agency as a way to show some love to its star, Wade.
But, as I'm sure they know by now, Miami is definitely LeBron's world.
Jemele Hill can be reached at jemeleespn@gmail.com.