Commentary
Terry Kennedy takes aim at television
Updated:
October 11, 2010, 7:11 PM ET
By
Kelley Carter
| Special to Page 2
Terry Kennedy, a 25-year-old pro skateboarder, has been, well, on a roll.
Kennedy, who co-starred on MTV's "Viva La Bam," has been busy launching his second shoe line, grinding on railways at Venice Beach and competing in skate competitions. On Tuesday, his reality show, "Being Terry Kennedy," premieres on BET.
The reality show will focus on his day-to-day life, his life as a skateboarder and, possibly, his love life. He formerly dated Run-DMC star Reverend Run's daughter, Angela Simmons.
We caught up with Kennedy to find his motivation for making the new show.
[+] Enlarge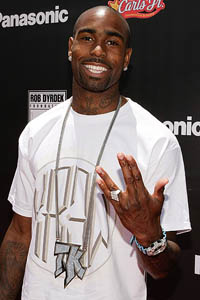 Noel Vasquez/Getty ImagesPro skateboarder Terry Kennedy is an aspiring mogul.
So you've spent much of this summer competing. How do you prepare yourself for a competition?
Just practice. That's it. Just mentally practice, practice physically, work out and take time just to gather myself and have my mind together when it's time for me to focus and get out there and skate.
Let's go back a little bit. What made you even want to pursue competitive skateboarding?
Random. This kid I played basketball with in eighth grade used to do it. And I used to sit in front of my school every day after basketball practice and he had all the skate clothes on, the shoes and just the freshest bowls, and I'd be like, "Where do you get that stuff from?" ... He was like "These are skateboard shoes. If you want to skate, just go to a skate shop and skate." I used to always bother him and he finally was like, "Dude, why don't you just skate?" From there it just became a passion and I grew to love it and I was like, "Dude, I want to make a career out of it."
When you go out to these competitions you are probably the only person out there who looks like yourself, correct? What's it like being a black man in competitive skateboarding?
You're always competing against the best people in the world, no matter what your skin color is. So I just look at it like that. No matter what I would've came up in, even though skateboarding is predominately a white sport, it started off, and now it just grew to be predominately a multicultural sport now. You know, now you've got African-Americans, you've got Asians, you've got Hispanics, you've got so many different people, so I just think it's just growing and it's getting innovative and it's changing.
Is this one of the goals or missions of the upcoming reality show on BET to introduce the sport to more young, black kids?
Yes, exactly. Exactly. That and to show them that, don't be scared of your dreams. Because I think especially as African-Americans, we're always the type of people that if we don't see someone else do it, we don't want to do it. We don't think it's cool. I was the only black kid skating, and my friends didn't see anybody else do it, so it was like, "That ain't cool, man. Who's black that skates? That's white-boy stuff." But kids coming up now, it's like, "Dude, don't be scared of who you are, no matter what it is." You could be black and play the guitar now. Don't be scared of what you want to be and what you are. In spite of your skin color. And that's what BET is definitely putting across, and that's always what I wanted to put across. I never changed who I was. I'm from Long Beach, Calif. I still got tats, I still wear jewelry, I'm still an African-American to the bone. Just because I skateboard doesn't mean I changed who I was as a person and that's what I want to teach people. I never let go of who I was as a person, I just picked up a skateboard and I loved it.
How challenging has that been for you?
Oh, it was rough. Especially growing up in Long Beach. It was the inner-city, so there's nothing but gang violence, drug-selling and police violence. So you're dealing with -- because of your skin color -- you're fighting against the police, and then your own people, because of gangs, and then drug-selling. So, it's like so much to battle. On my block, I had so much stuff, so much adversity that I had to battle, especially me being black and wanting to skateboard and coming up out of a community that was a neighborhood full of all Crips. But I showed that I never forgot who I was, and my family always kept me that way and that's why my family is a major part in this show as well. They always kept me grounded to who I was and always told me don't run from who I am. "If you want to skateboard, Tay, do it. We don't think it's no career in it, but if that's what you're gonna do, it's gonna keep you out of trouble and save your life, do it." Because you could be in front of the house right now getting shot and all that crazy stuff, so they were like, "Do it."
You're also an aspiring rapper, too, right?
Yes. And the music has been doing real well. We just took some meetings with Def Jam and they were super excited about the music and a lot of people have been reaching out, so we're just sitting back and continuously making the music and just planning out what direction we need to go in on that side, because we've got a lot of offers.
So that's a next step for you; how long can you skateboard?
I'm gonna tell you like this: Tony Hawk is what, 39? And he's still out there ripping. It's a testament to your body and how you take care of yourself and how much you don't fall, I guess, because the more you fall, the more you put on your body. But Tony Hawk is 39 and he's still out there ripping, so hopefully I'll still be doing it until I'm 40.
Like Tony Hawk, are you hoping to have some video games come out in the future?
Yes. I'm hoping to just be a mogul like that man is. I'm aspiring to be a mogul, exactly like he is. How he has his own video games. I already got my own boards, my own shoes, clothing company, my own music company. I'm aspiring to just own a lot of brands and give back and help a lot of other people get on and give back the same way I was given to.
Are you nervous to share your life like this with millions of people?
Nope, I'm excited. Because everything I filmed and we put together, I can stand behind it and say I'm not gonna back out on what I did. I'm just getting my story across and it's real. Everything that happened in my life, everything that's turning in my life, it's so parallel, you know? It's a real compelling story and it's gonna inspire, so I'm excited about it.
Kelley L. Carter is a freelance entertainment journalist based in Los Angeles.