Commentary
Sports fans give reasons to stay home
Updated:
October 14, 2010, 1:31 PM ET
By
Jerry Greene
| Special to Page 2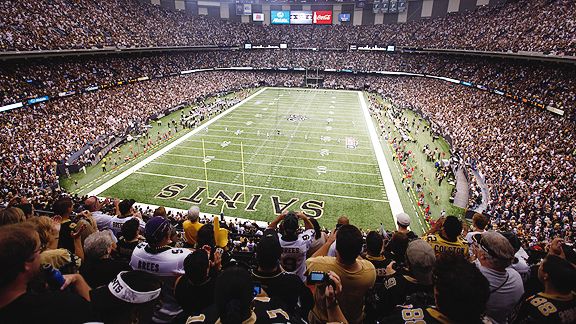 Chris Graythen/Getty ImagesPage 2 readers provided hundred of reasons they prefer to stay home than go to a stadium.
We touched a live nerve with this one.
We wanted your suggestions on how to complete "Top Ten Reasons To Watch Sports at Home," instead of actually attending the game. Hundreds of you offered a ton of answers that collectively had the feeling of something you urgently wanted to sound off about.
We asked because attendance has been dropping at many events, while TV viewing is soaring. For auto racing, for example, the decline in actual attendance is alarming (and even the TV numbers are not all that good).
For even the mighty NFL, while the decline may be statistically small, it's still a decline. The "blackouts" of local TV for games that do not sell out is like the first symptom of what may be a serious disease.
Why? The economy, of course, is an answer. But you provided many more reasons for staying at home. Let's get to the list that expresses the most common responses with an example of each:
Top Ten Reasons To Watch Sports at Home
1. The wonders of TV -- "When I watch the Bengals at home, I can hit the rewind button and watch in reverse. Carson Palmer is a much better quarterback when he appears to be stealing the ball away from the defense at a crucial point in the game," said Patrick K., Cincinnati. You also raved about HD, Red Zone, replays and many of televised wonders although nobody had anything nice to say about the announcers.
2. Your own bathroom -- "Shorter men's room lines and less urine on the floor. Well, at least shorter men's room lines," said Parker, New York City. (Don't invite us over, Parker.)
3. Cheaper staying home -- "I can invite my buddies over, pay my wife for parking, have my kids throw peanuts at me, watch the game on my 64-inch TV and it's still far cheaper than tickets to the game," said Brandon S., St. Louis.
4. Cheap & plentiful beer -- "At home I get 24 beers for the price of 3 at the game, which is essential when you root for the Redskins," said Drew W., Pittsburgh. (Twenty-four beers? Forget about DUI, can you even walk?)
5. Avoiding the crowds -- "I never get booed, hit by vomit or tasered at home," said Royce A., Clifton, N.J. (You get tasered a lot at games, Royce?)
6. No inclement weather -- "My living room has never been 20 degrees below zero," said Ben M., Peoria, Ill.
7. No driving/parking hassles -- "If I stay home, I don't worry about parking in some guy's yard for $20, walking a mile to the stadium, leaving early to get back to my car and discovering my hubcaps are gone," Jason N., Miami.
8. Rooting for lousy team -- "Too expensive to see my Detroit Lions break my heart over and over in person. I ponied up the money to see the Lions go 0-16 with a loss in Green Bay in 2008. It was like hiring my ex-girlfriend to punch me in the stomach repeatedly," said Josh B., New Haven, Conn.
9. Comfort and ease at home -- "You don't have to waste time, money and effort getting your girlfriend/wife to the game. This way she can do the cooking while you sit in your recliner," said Michael C., Charleston, S.C.
10. No pants -- "It's so relaxing to watch in your shorts," said Jeff S., Virginia Beach, Va.
No kidding, we had 12 votes for "no pants," which was good enough for 10th place. Other reasons to stay home were given that did not make the "top 10" but are worth sharing:
• "At home, I don't usually end up with an opposing fan's bear in my lap," said Nathan H., Tyler, Texas. (Uh, Nathan may have meant "beer" but it's a colorful image if he really meant "bear.")
• "I never feel obligated to do 'The Wave,'" said Cary P., Columbia, Miss.
• "My name is Steve Bartman -- Just kidding," said Mark C., the Philippines.
There you have it and every team should look at this list and give it thought. Truthfully, there may not be much they can do to slow down this increasing urge to watch from the comforts at home. Perhaps for starters they can try to do something about Reasons 2 and 4. In other words -- free beer and cleaner bathrooms. They go together.