Commentary
'Hurricane' Carter on All-Weather Team
Updated:
October 16, 2010, 2:08 PM ET
By
Rob Daniels
| Special to Page 2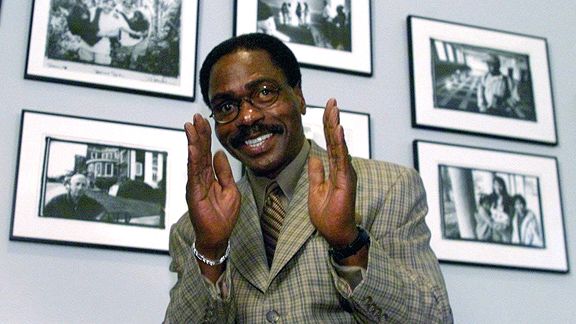 AP PhotoCelebrated coach Rubin "Hurricane" Carter makes Page 2's All-Weather Team.
With the change of climate -- albeit delayed in some parts -- Page 2 brings you the All-Weather Team. So grab a sweatshirt and gather 'round the pumpkin to honor men of all seasons.
"Sunny" Jim Bottomley: You'd smile a lot, too, if you had the kind of career this guy had. He's still the only player with 20 or more triples, 30 or more homers and 100 or more RBI in a season, a trifecta he accomplished with the 1928 St. Louis Cardinals. He's in the Hall of Fame with one MVP award to his name, but that single citation is hard to sneeze at. Over in the other league, Babe Ruth only won the AL MVP once.
Rubin "Hurricane" Carter: The promising middleweight from Paterson, N.J., was ranked as high as third in the classification in 1965 before his skills declined. A year later, a loss of career was the least of his problems. Carter was arrested and twice convicted of murder, and he ultimately served nearly 20 years in prison before a federal appellate court tossed out the verdicts, implying the prosecution's ethics and theories of the crime were flawed. Carter's life was profiled in "The Hurricane," a 1999 film starring Denzel Washington, and he later served as the chief administrator of a Canadian advocacy group for the wrongly convicted.
Mark Clear: The Weather Channel doesn't have any "Clear Weather Experts" panting furiously when the sky's blue, but that doesn't make Clear irrelevant. Quite the contrary. He played his first two seasons in a place where his name fit perfectly: Anaheim. He's one of only 32 rookies to pitch in an All-Star Game, having earned the distinction while with the then California Angels in 1979 and again in 1982 (Boston Red Sox).
Mike Cloud: Cumulus or cirrus? After being run over by the Boston College running back, defenders were often left looking skyward and feeling loopy. Cloud ran for nearly 3,600 yards -- a school record at the time he finished up in 1998 -- and was a second-round NFL draftee who played in parts of seven NFL seasons. He got into five games with the 2003 New England Patriots, who won the Super Bowl. Guess they needed a cloud to block out Bill Belichick's perpetually sunny disposition.
Storm Davis: George Edward Davis acquired the tempestuous nickname before birth for his propensity to bounce around in the womb. He grew into a solid big-league pitcher who started the close-out game in the Baltimore Orioles' 1983 ALCS win over the Chicago White Sox. Davis ultimately helped that team and the 1989 Oakland Athletics to World Series titles.
Mark Flood: When it rains, it freezes. And then Mark Flood skates on it. The veteran defenseman has displayed a willingness to chase the dream all over North America by playing 546 games for the Peterborough Petes, Albany River Rats, Syracuse Crunch, Dayton Bombers and Bridgeport Sound Tigers before earning a call-up to the New York Islanders late last season. Flood's newest gig is with the Manitoba Moose, the Vancouver Canucks' entry in the American Hockey League.
Dan Rains: An ill wind blew misfortune into Rains' face one day in August 1985. Undrafted out of the University of Cincinnati in 1976, Rains played for the Toronto Argonauts in the CFL and an outfit known as the Charleston Rockets of the American Football Association before hooking on with the Chicago Bears as a 28-year-old rookie in 1982. He worked his way into a part-time starting role by '84 and was set to back up Mike Singletary in 1985, but he suffered a knee injury in preseason and didn't get to participate in the Super Bowl Shuffle experience. He practiced with the team from October through the end of the season but didn't get the call to active duty that year.
Frostee Rucker: Yep, that's his name. As a kid, Frostee Lynn Rucker probably never saw anything resembling the conditions implied by his handle. He grew up in the Orange County community of Tustin, Calif., and he played college ball at USC. Football does have a way of making its finest move around, and Rucker's park is now in Cincinnati with the Bengals.
Jack Snow: Hailing from a place that just sounds like football, Rock Springs, W.Va., Snow had a distinguished tenure at Notre Dame and was the eighth overall pick of the 1965 NFL draft. He averaged 17.7 yards per catch in an 11-year career with the L.A. Rams, highlighted by the 1967 season, in which he averaged 26.25 a pop. Only two players with a minimum of 25 catches in a season have equaled that figure in the 33 years since.
Tornado Jake Weimer: The hard-throwing righty played his first three seasons (1903-05) with the Chicago Cubs before they dealt him to the Cincinnati Reds in 1906 for Harry Steinfeldt. As a rookie with the Cubs, Weimer went 21-9 with a 2.30 ERA. He was even better his second season -- going 20-14 with 1.91 ERA.
Rob Daniels is a freelance writer for Sports Media Exchange, a national freelance writing network.