Commentary
Belfast, N.Y., houses Bare Knuckle Hall
Updated:
October 20, 2010, 12:33 PM ET
By
Ryan Whirty
| Special to Page 2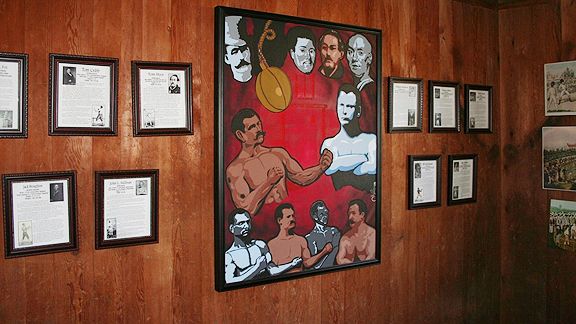 Ryan WhirtyThe Bare Knuckle Hall of Fame highlights inductee plaques and a poster by artist Chris Guzman.
BELFAST, N.Y. -- With a faint, musty smell in the air and sunlight bathing the cramped little room, Scott Burt picked up a ceramic jug and smiled broadly. He stood in what he calls "the cell," a space, complete with iron bars, in a 126-year-old barn that has become the Bare Knuckle Boxing Hall of Fame.
It was in the cell that trainer William Muldoon locked famed prizefighter John L. Sullivan overnight to dry out from an evening of carousing in the local pubs. But Sullivan cleverly hid the booze-filled jug under a trap door in the Spartan room that contained -- and still contains today -- little more than a rugged wooden cot and chair.
That jug is just one piece of memorabilia in the Bare Knuckle Boxing Hall of Fame, where Burt has put together the most comprehensive collection of artifacts from this now-defunct sport. The museum is housed in a pair of barns that Burt moved piece by piece from the grounds of a Catholic church that had owned the buildings for decades, to a small plot surrounded by a white picket fence in a residential neighborhood.
"This is probably the most important thing I've done," Burt said. "We'd like to have something that's still around after we're not."
Sullivan's contribution was being the larger-than-life face of bare-knuckle boxing for six weeks in 1889, before he scored a 75th-round technical knockout over Jake Kilrain in what many consider one of the most important fights in the annals of boxing.
[+] Enlarge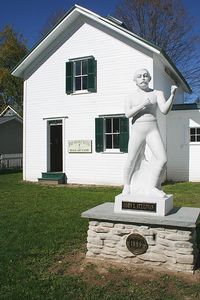 Ryan WhirtyA life-sized statue carved of white marble greets visitors to the Bare Knuckle Boxing Hall of Fame in Belfast, N.Y.
"This was the big sport, and this was the big news," Burt said of Sullivan's training period.
That was the last bare-knuckle title fight in history.
What remains are the painstakingly restored barns -- Burt invested countless hours of labor and, he estimates, $100,000 -- that house the gloves, medicine balls, plaques, rings, weights and other paraphernalia that define the world of boxing. Many of the pieces were used by Sullivan as he trained for the championship fight.
Rooms include a lounge -- what Sullivan called his "room of repose," complete with ornate woodwork in the ceiling -- in which the fighter cooled down from exercising and which still contains Muldoon's chair and some of his books. The barn also contains an upstairs space used by Muldoon and Sullivan for wrestling, where Burt found remnants of the original grappling mat still nailed to the floor. Visitors are welcomed by a life-sized white marble statue of Sullivan in the front yard.
Burt has dreamed about preserving and restoring the buildings since 1969. And he and his small crew were just in time -- when they moved the barns, they found that some of the flooring was rotted out.
"I was in awe then," he said. "I never realized that 40 years later, I'd be in charge of this project to preserve it."
Since opening in 2009, the Hall has had two induction classes. Plaques honoring Sullivan, Kilrain, Muldoon, journalist Richard Fox, promoter Harry Hill and others share a simple room with a replica of the gaudy championship belt Sullivan won in 1889.
The facility is a work in progress -- Burt finished painting the buildings' exteriors this summer -- and is open for tours by appointment only, although Burt hopes to drum up volunteers to staff the buildings for regular tours.
Belfast officials see the facility as a tourism wellspring that can help revive the economy and spirit of this struggling little burg with no industry and that counts the local school system as the largest employer.
"We've been trying to think of something that would put Belfast back on the map," town supervisor Dave DeRock said. "Belfast is a dying town. We need anything to bring people into town."
Ryan Whirty is a freelance writer for Sports Media Exchange, a national freelance writing network.