Commentary
Minnesota Fats on All-Geography team
Updated:
November 13, 2010, 7:04 AM ET
By
Rob Daniels
| Special to Page 2
There's no East Coast bias here at Page 2, and we can prove it. Our All-Geography team is represented by every time zone in the United States. Enjoy your travels.
[+] Enlarge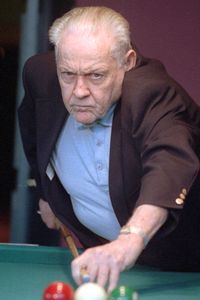 AP Photo/Charles KrupaBilliard legend Rudolf Wanderone Jr. became better known as Minnesota Fats.
Minnesota Fats: Rudolf Walter Wanderone Jr., adopted -- some would say purloined -- his nickname from the film "The Hustler," claiming the story was based on his vagabond, pool-sharking lifestyle. Fats was, if nothing else, an expert marketer, becoming a legendary cultural figure without winning a major national championship in billiards. And for the record, Minnesota was born in New York City, lived in a portion of Illinois known as "Little Egypt" and resided in Virginia and Tennessee. If Minnesota is the "Land of 10,000 Lakes," Fats was the player with 10,000 defeated opponents.
Georgia Frontiere: Born Violet Francis Irwin in St. Louis, she frequently changed names and addresses and ultimately became owner of the Los Angeles Rams when her sixth husband, Carroll Rosenbloom, died in 1979. Two months later, she married hubby No. 7, Dominic Frontiere. "Madame Ram," as she was known, kept the itinerant thing going when she moved the team to the city of her birth.
Johnny Hilo: Drafted by the Los Angeles Dodgers out of Cal State-Los Angeles in 1994, the outfielder played parts of two seasons in the minors. At 6-foot-2 and 175 pounds, Hilo just wasn't large enough to earn the moniker "The Big Island."
Joe Juneau: The native of Quebec, Canada was probably one of the smartest players in NHL history. He had little command of English when he arrived at Rensselaer Polytechnic Institute, but he graduated with a degree in aeronautical engineering. For all his intellect, Juneau didn't immediately grasp the significance of his jersey assignment when he joined the Boston Bruins. The team gave him No. 49. Alaska, the nation's 49th state, has its capital in Juneau.
Dallas Lauderdale: The 6-foot-8 center from Ohio State plays basketball, but he has two of college football's most fertile recruiting territories and two of its largest TV markets covered in his name. The Metroplex and South Florida have about 4 million households between them, and when they tune into Buckeye hoops games, they seldom see their guy miss. Last season, he was 99-for-128 from the floor, with an absurd 77.3 percent accuracy rate helped considerably by dunks. He didn't take -- or make -- enough shots to qualify for the national rankings.
Russell Maryland: The veteran defensive lineman hasn't spent much time in the state that bears his name. He was born and raised in Chicago; played college ball in Miami; and hunted quarterbacks for the Dallas Cowboys, Oakland Raiders and Green Bay Packers. He did play for the visiting Raiders in the first game in Baltimore Ravens history, a 19-13 result for the home team on Sept. 1, 1996.
Arizona Reid: Raising Arizona was a pleasant task for the basketball program at High Point University, for which Arizona Reid III played and earned Big South Player of the Year honors twice. Reid's contract with an Australian pro team was recently terminated after his arrest on a drunken-driving charge, but he quickly signed in Lebanon and isn't expected to have any further trouble. He knows that recidivism ain't a pretty word.
Marcus Santa Cruz: The junior college transfer sounds like he's from California, but is actually from Arizona and is now playing football in Texas for Baylor. If he played baseball for the University of California at Santa Cruz, he could be known as "The Banana Slugger."
Cheyenne Woods: Tiger's cousin is a pretty good golfer in her own right, having earned second-team All-America honors at Wake Forest this past spring. Although the genes are clearly excellent, it's hard to imagine she'd be as accomplished if she had grown up in Wyoming rather than her native Arizona.
Rob Daniels is a freelance writer for Sports Media Exchange, a national freelance writing network.