Commentary
Sports shines at GQ Men of Year party
Updated:
November 19, 2010, 8:05 PM ET
By
Chris Palmer
| ESPN the Magazine
Hollywood is never in need of a reason to party. Still it got one this week when GQ came to town and threw a ritzy shindig for its 15th annual Men of the Year issue at the famed Chateau Marmont on Wednesday.
The annual issue celebrates the year's best from Hollywood to fashion to the sports world.
Drew Brees and Landon Donovan were selected by the magazine's editors as two of GQ's men of the year.
"Brees for me was a no-brainer," GQ editor-in-chief Jim Nelson said. "His story was about everything that New Orleans had gone through and it just gave you goose bumps to see him triumph."
[+] Enlarge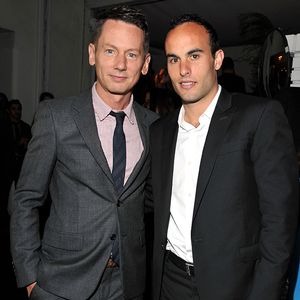 Lester Cohen/Getty ImagesLandon Donovan, with GQ editor Jim Nelson, was named the magazine's "Baller of the Year."
Donovan's star turn in the 2010 World Cup, particularly his goal against Algeria, landed him a place on the coveted list. "Landon is just class," Nelson said. "He's the guy who made America pay attention to soccer."
"It's great to get recognized for what you do," Donovan said. "I've always loved GQ, so it's cool to make this issue."
The party's tightly guarded guest list brought in a who's who of A-listers, headline makers and, of course, dozens of paparazzi, which security barricaded on a sidewalk across the street from the hotel's entrance.
In the main foyer of the Chateau, Nelson, dressed in a smart, gray Prada suit with a dark blue skinny tie, greeted the likes of James Franco, Taylor Lautner, Drake and Anna Faris, while chatting about the current state of athlete style.
"For the first time in a long time we're seeing a change in the direction of athlete's style," he said. "NBA guys seem to be leading the way with someone like LeBron embracing a more tailored look. I think there are a lot of players who have a chance to really become iconic fashion-wise. Gone are the days of disastrous six-button suits. Now those guys are really getting their style game on."
As for Donovan, he had no problem keeping up on such a glitzy stage.
The Los Angeles Galaxy forward held his own in a black jacket and white button-down shirt (sans tie) while looking comfortable chatting up celebs, such as actors Colin Hanks and Jerry Ferrara.
"It's good to get out and mingle a little bit," said Donovan, whom GQ named their "Baller of the Year."
Posting up at a bar across the room was rocker Kid Rock. Dressed in a black cowboy hat and jeans, Rock proudly wore a 2008 Detroit Red Wings championship ring and copped to giving sports a try when he was a teenager.
"I played a lot of different stuff my freshman year of high school but there were too many other things that I would rather be doing so I started doing music," said Rock, a die-hard Red Wings fan.
Between sips of Heineken, Rock impressed with his encyclopedic knowledge of Detroit sports and says he regularly attends Pistons and Red Wings games when he's back home. "I was all about Steve Yzerman," he says. "The man was a flat-out legend."
Most of the crowd seemed to have sports on the brain. Drake, who got his Johnny Cash on with a black jacket, shirt and tie said he "could hoop a little bit back in the day." As Ferrara (that's "Turtle from 'Entourage'" to you) stood within arm's reach of Christopher Mintz-Plasse (a Los Angelino who loves the Boston Celtics), "Family Guy" producer Seth MacFarlane and actress Olivia Munn, he recalled how meeting huge sports stars on set was one of the best things about Entourage's seven-season run.
Jersey Shore's "The Situation," known to his parents as Mike Sorrentino, waxed on about the potential of his post-"Jersey Shore" career in the morning's wee hours as rapper Kid Cudi made his way to the exit.
"I would love to do a sports movie," said "The Situation." "I'm really into the underdog thing because I'm an underdog myself. I came from nothing and look at me now. I met Leonardo DiCaprio, and he told me to be smart about my career. I know the 'Jersey Shore' isn't going to last forever and when it's done I could see myself doing something like 'Rocky.' The ultimate underdog. That's me. Yeah, I would like that."
Now if we can just get Snooki to play Adrienne.