Commentary
Management more honest than ever
Updated:
November 21, 2010, 1:17 PM ET
By
Jerry Greene
| Special to Page 2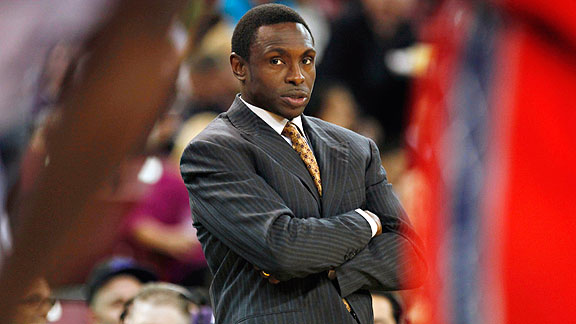 AP Photo/Rich PedroncelliNew Jersey Nets coach Avery Johnson said his team isn't ready to win the close games.
Do you have trouble saying "No!" to salesmen? Do you walk into a store expecting to buy a candy bar and walk out with a new sofa? If a Neanderthal starts washing your windshield at the stop light, do you give him 20 bucks?
(Actually, that's probably a good move.)
Wouldn't it be nice if that sofa salesman or that Neanderthal gave you the perfect refusal themselves? Sometimes that happens.
Cleveland Indians president Paul Dolan said last week that fans should "forget about a big free-agent signing bolstering the roster." Then he added, "It's not the right time to spend."
Hey, Indians fans, when they come calling about your season-ticket renewal (and they will), all you've got to say is "it's not the right time to spend."
How about New Jersey Nets fans? After the Nets missed four consecutive shots in the final minutes of a 98-88 lost to the Utah Jazz, Nets coach Avery Johnson said: "Our team, we're not at a point right now mentally where we really believe deep down in our gut that we can win these games."
You've got to pray for the chance to tell a Nets salesman: "We're not at a point right now mentally where we really believe deep down in our gut that we can pay to watch you lose these games."
Makes you almost wish you are a Nets fan just so you can use that line.
Meanwhile the rest of us will be looking around the rest of the sporting world for a few more notes before moving on to the main courses of this pre-Thanksgiving Sunday Brunch provided by some of the nation's best pundits.
• Hold on a second! Nah, false alarm. For a second there I thought the Miami Dolphins were going to score.
• This week's Total Denial Award goes to Philadelphia Eagles QB Kevin Kolb: "The thing is, we're such a close-knit group -- even me. Shoot, I feel like I'm out there playing. So it's not like I'm out of the picture." Uh huh.
• The Glazer family paid off a Manchester United loan worth about $352 million American although many wonder where the money came from. And in related news, the Tampa Bay Bucs announced they will play in 2011 without shoes.
• According to a chart in USA Today, I'm too old to be a Baby Boomer. That's not good.
But what is good are the main courses in the Brunch that begin right now:
• And now for something completely different -- an article by Ken Moran of the New York Post that talks positively about a woman hunting a turkey and, even more surprising for us, Oprah Magazine. Read it here first.
• On to Greg Cote of the Miami Herald, who laments that the Dolphins have gone from being led by the likes of Dan Marino and Bob Griese to a guy whose name sounds like a character from a Peanuts cartoon. Snide.
• Why are Peyton Manning and Tom Brady like the War of 1812? Sam Farmer of the Los Angeles Times has the answer here.
• Kansas City's Joe Posnanski has his own take on a Joe Paterno news conference. He thinks listening to Papa Joe talk football reminds him of listening to John Wooden talk basketball. Can you say, "legend"?
• We'll close the Brunch with one of America's best sports notes columnists, Mike Bianchi of the Orlando Sentinel, who asks (and answers), among many other things: "Are we supposed to be excited that Tiger Woods is not on Twitter? Come on, the man hasn't said anything interesting in 14 years; why would you think he's going to say anything interesting in 140 characters?" Snidest.
• And as a closing dessert, we have Jerry Greene's own NFL predictions column that is full of his own snide remarks and perhaps a correct guess or two. (Emphasis on "perhaps.") Meanwhile, an early happy Thanksgiving to all of you.