Commentary
Lack of chemistry hurting Miami Heat
Updated:
November 24, 2010, 1:35 PM ET
By
Rony Seikaly
| Special to Page 2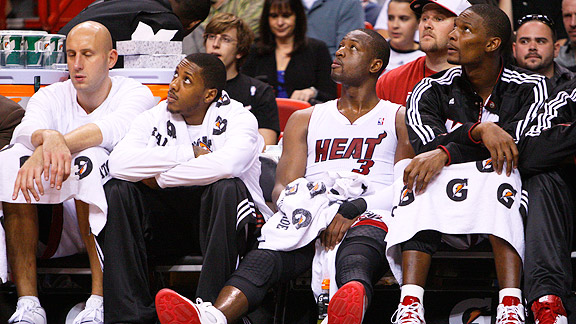 AP Photo/Wilfredo LeeThe Miami Heat players show their reaction to losing to the Indiana Pacers Monday.
We all know on paper that the Miami Heat are a championship-caliber team. We all know that Lebron James is the best player in the world, by far. The problem is that sometimes what's on paper doesn't give you the result you anticipated.
Look through the course of your life and your investments. On paper, it all looks good. When you invest, you roll up your sleeves and get to work. Then you find all sorts of things you hadn't anticipated.
This is the situation these guys are in.
It's not by accident that the Olympic Dream Team sometimes struggled against European teams.
Talent alone is not going to win you basketball games. You need chemistry. Five guys have to play together.
What you see now on the Miami Heat is a serious lack of chemistry.
When Michael Jordan and Scottie Pippen played together, they didn't win it all as soon as they got together. They had to go through their bumps and bruises and find a way to win. Remember Gary Payton, Karl Malone, Kobe Bryant and Shaquille O'Neal on that Lakers team? They didn't win it all.
I think everyone is surprised at what's happening this season so far. You have these two great players, James and Dwyane Wade, as the main pistons of the engine, and everyone else should be doing their part. But everybody else looks confused.
Who is the leader of the team? It doesn't matter what I say. It matters what the players feel on the court. You have to give up the reins and do your part.
That's what I think is lacking with this team. Players need to have their roles defined. Guys aren't sure what they were brought in to do.
[+] Enlarge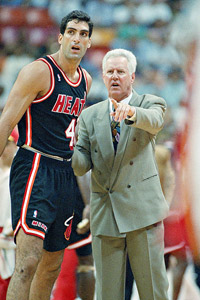 AP Photo/John BazemoreRony Seikaly played 11 seasons in the NBA, including 6 years with the Heat.
That is so overlooked in basketball. Without that, people get confused.
Was Chris Bosh the right addition? I thought Wade and James would be like Pippen and Jordan, and Bosh would find his role. He'd get his points and his rebounds. But I don't see that flow in the offense. Chemistry just isn't there.
Listen, I think Erik Spoelstra is a good coach. He could have easily started undefeated and would be talked about as Coach of the Year, but now he could be talked about as losing his job in a month. That's just the way it is in the NBA.
You have to manage talent and manage ego. That's just as important as X's and O's. This is the thing that Phil Jackson is so good at. He manages those talents and makes them all cohesive.
Spoelstra hasn't had time for his team to gel. Mike Miller got injured. Wade got hurt. And Udonis Haslem. It goes on and on.
I think the players thought they could learn things on the job. That's not what it's like in the NBA. Every team they face thinks it's Game 7 of the NBA playoffs.
No way I'd want to be the coach, but there still are so many questions to be answered:
Do the Heat have that person in the middle to play defense?
Is LeBron the answer at point guard?
Do the players understand their roles?
I know they thought that sheer talent would overpower teams, and they'd win all their games. But that's proving not to be the case.
I can't say how the season will turn out until some of the lingering questions are answered.
Rony Seikaly was drafted by the Miami Heat in 1988 and played 11 years in the NBA. He's now a real estate investor, records his own music and is a DJ. Check out his work here. He will write occasional columns for ESPN.com.