Commentary
'Brunch' looks at work stoppages
Updated:
November 28, 2010, 9:27 AM ET
By
Jerry Greene
| Special to Page 2
Urp.
'Cuse me, just some of that cornbread dressing coming back on me. Got to admit that just three days after Thanksgiving seems like an odd time for a Sunday Brunch as most of you are probably too full to button your pants. Not that I want to know about that.
Another thing I'm trying not to think about is the impending work stoppage for the next season of the NFL. Nobody wants to think about that. After all, it could lead to Keanu Reeves making "The Replacements II."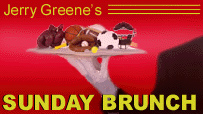 But the war of words is heating up. The NFL Players Union warned the city of Pittsburgh that an owners' lockout in 2011 could cost the city $160 million in lost tax and job revenue.
However, the city of Jacksonville said: "That's one thing we don't have to worry about."
Meanwhile, I'm guessing that everyone who is not employed by the NBA is praying for a work stoppage there. If you are old enough to remember the 1998-99 work stoppage that shortened that NBA season to 50 games, you remember how we all reacted:
Best. Season. Ever.
Meanwhile, a few more brief bon mots before we get to the main courses of the Brunch provided by some amazing verbal chefs:
• "As God is my witness, I thought turkeys could fly!" -- Arthur Carlson, WKRP in Cincinnati. Simply the funniest line in TV sitcom history.
• Hey, Texas, what bowl game you going to this year? What? Seriously? Never mind.
• Tweet to Tim Tebow: Keep the bread and fishes handy, Tim, because it's almost time.
• Here's hoping Miami Heat followers tell the club that they will "fan up" as soon as the players "man up" and win a lot more than they lose. Record is 9-8? Come on, men!
• They plan to build two spectator bridges across the playing area at Madison Square Garden. Sure, what could go wrong with that?
OK, enough brief leftovers. Let's get to the Brunch's main meals:
• Why not start with the Miami Heat? Dan Le Batard of the Miami Herald focuses on Dwyane Wade and finds him curiously failing. The writer wonders when Wade might start to doubt himself and, perhaps more importantly, when might LeBron James begin to lose faith?
• What? We're talking about baseball again? Yes, because Kansas City's Joe Posnanski looks at the Derek Jeter-Yankees plot line and declares it is no more likely for Jeter to play somewhere else than it is for James Bond to die in his next movie. Of course there might not be another Bond flick. I'm just sayin'.
• Is this possible? Another baseball article? Yes, because it is one of our favorite types -- a bottom ten list. Bill Madden of the New York Daily News gives us the bottom 10 baseball players of the season. Uh, Yankee pitcher A.J. Burnett might want to skip this one.
• And now for a brief interlude, have you ever been condescending when talking about our American football to someone who has never seen the game? Want to know how it feels on the other side? Read this brief Bloomberg News report of a cricket match. Here's my favorite sentence: "Cook struck an unbeaten 132, while captain Strauss scored 110 as the opening pair shared an England-record 188-run stand to help lift the touring team to 309-1 when bad light ended play seven overs early." Uh huh.
• Had a laugh at crickett's expense? Curt Cavin of the Indianapolis Star exposes an absurdity in American football that we try to overlook -- the inexact science of spotting the football. We all just pretend that it really works.
• Our closing dessert is Jerry Greene's own NFL predictions column. He was 3-0 on Thanksgiving but, unfortunately, Sundays seem to be his weakest day.