Commentary
Top 10 clues you're in bad bowl game
Updated:
December 9, 2010, 10:18 AM ET
By
Jerry Greene
| Special to Page 2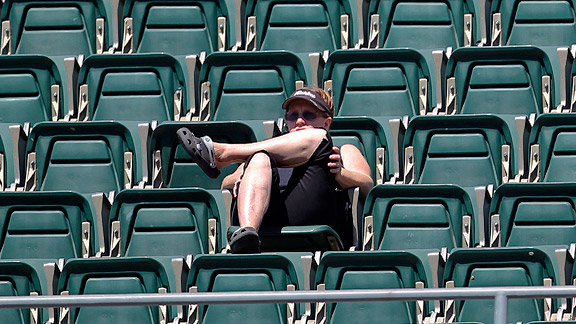 AP Photo/Tony AvelarIf good seats are still available, your team might not be in a good bowl.
How many lousy bowl games are there?
There must be too many, judging by the enthusiastic response from you when we asked for suggestions to fulfill this week's list: Top 10 Clues You're In A Lousy Bowl Game.
More than 300 of you submitted more than 500 ideas, indicating you don't think we have a pressing need for 35 bowls that include a dozen teams with 6-6 records. The most common clues dealt with bowls in rotten-weather cities and bowls with sponsors that cannot be found even with a Google search. (Detroit really took a beating, but we're not going to pile on.)
Of course, your standards might be really high, such as Seth T. of Columbia, Mo., who said: "You're in a lousy bowl if it's not the National Championship game."
And a small number resented all bowls, such as Bruce R. from New York City, who wrote: "It's lousy to go to any bowl because we should hurry up and make a playoff system please."
Some of the submissions seemed personal and specific, such as:
"You're in a lousy bowl game when your kicker misses two field goals against Nevada," said Scott S. of Grand Junction, Colo., who might have been thinking of Boise State.
Or "You know you're going to a lousy bowl game when, instead of traveling to Miami, Orlando or Nashville, you get to travel 20 minutes on the DC Metro to beautiful RFK Stadium," said Josh V. of, ahem, College Park, Md.
Anyway, let's get to your list:
Top 10 Clues You're In A Lousy Bowl Game
10. "One of the teams doesn't have the same coach they started the season with," said Kayce H. of Denver. (Now that's topical.)
9. "Three teams were invited in case one of them doesn't show up," said Carl F. of Fort Myers, Fla.
8. "On game day the stadium parking lot is also the site of a flea market," said Susan M. of Phoenix.
7. "NASCAR wouldn't let your bowl game's sponsor's name appear on one of its cars," said David S. of El Cajon, Calif.
6. "University of Texas fans are happy they lost their last game so they wouldn't have to go to your bowl," said Alex R. of Birmingham, Ala.
5. "The sideline reporter is Joan Rivers," said Bill P. of Tualatin, Ore.
4. "Due to poor planning, the field has no end zones so the winner will be determined by three French skating judges," said Mike J. of Powder Springs, Ga.
3. "ESPN.com's Page 2 makes a Top Ten list about how lousy your bowl game is," said Wes V. of Mount Sterling, Ky. (Clever, Wes, clever.)
2. "Your GPS can't find the stadium," said Guillermo C. of Mexicali, Mexico.
1. "You hear you are going to Glendale for your bowl game but find out it's Glendale, N.Y." said Mark M. of Apopka, Fla.
Before we close, we've created a short bonus list of what you might find in "lousy bowl game swag bags":
• "Half-off tickets to see Carrot Top," said Logan B. of New Haven, Conn.
• "A pack of gum, a coupon for a free oil change and an autographed headshot of David Hasselhoff," said Jeremy S. of Tooele, Utah.
• "Five pounds of meat," said Dave H. of Toledo, Ohio.
• "Nothing but a 'Boise State -- BCS Champions!' T-shirt," said Christian W. of Woodbridge, Va.
Good effort, gang, and here's hoping your team really is not going to a bowl game that seems more like a punishment than a reward.